--- What was the most difficult time for you on this project?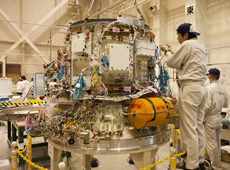 Epsilon in development (courtesy: JAXA/JOE NISHIZAWA)
I would have to say the most difficult time was two-and-a-half months before launch. The people in charge of the satellite Epsilon-1 was to carry requested that we launch by August 2013, so we had to build the rocket in a short span of three years. The H-IIA took seven or eight years of research and development, so you can imagine how short a timeframe this was. Yet in the end we were able to accept this challenge. We endured a difficult schedule with nearly no breaks from the time the rocket was relocated to the Uchinoura Space Center in June. And at the same time as we were preparing for launch, I had to coordinate the remaining development tests for Epsilon-1, as well as reviewing and coordinating plans for future launches. I was doing three things at once, and it was incredibly tiring. I was so busy, I honestly thought I was going to die. Even so, I remained entirely focused on this work up until the August 27 launch date, but then we had a shutdown at the last minute... At that point, all of a sudden I became mentally drained.
--- How did you get over this mental slump?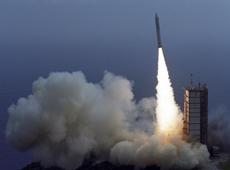 Launch of the first Epsilon Launch Vehicle
When I calmed down a bit after the cause of the malfunction was found, I took a day and a half off and refreshed myself. I was determined not to take a step off the Uchinoura site until the rocket launched, so I rested there without returning to my family. It was nice that a lot of children and other people were cheering us on at that time. I received hand-colored letters saying "We support you!" and people told me, "Don't give up!" Somebody even said to me, "The prototype is really important, so this is better than a failed launch, right?" That support encouraged me, and I was able to get my head straight.
--- How did you feel the moment the launch succeeded?
I thought of how the team had come together and really done their best. I was very relieved when Epsilon, which I call "Everybody's Rocket," launched without a hitch. When I worked on the H-IIA, my boss at the time said I should "just give it a try" and build that rocket. We started off with only a few people on the project, and a project manager and I from that time were involved from beginning to end. That's why I really felt I'd done my best, and even my daughter said to me, "That's Dad's rocket." I too strongly felt it was "my rocket," although in reality everybody involved worked hard on it. (Laughs.) Perhaps it was youthful exuberance, or I was just absorbed in the moment. But I've matured since then, and now I think of Epsilon as "everybody's rocket"... Of course I have to do my best for myself, but I also felt I wanted to build a rocket that everyone could be passionate about developing. As a result, the young 20- and 30-somethings on the team gave it their all, and I think Epsilon truly did become everybody's rocket. That made me incredibly happy, and it was one of the feelings I had when the launched succeeded.