--- Have you worked on rockets ever since you joined JAXA?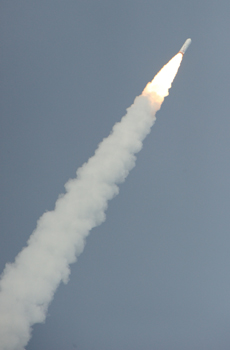 Epsilon in flight
This is my seventh year with the agency, and my work has always involved rockets. For my first three-and-a-half years, I worked on ground equipment used to launch the H-IIA and H-IIB rockets at the Tanegashima Space Center. Watching rocket launches in person was such a wonderful experience. On TV they only show 10 seconds or so of a rocket launch, but getting to that point takes a huge amount of time and effort. I was able to see that whole process, and I feel I gained a deeper understanding of what a rocket launch is about.
--- Have you had an interest in space since you were a child?
No. It didn't interest me at all when I was a kid. I wanted to be a fireman or a bus driver.
--- What made you want to work for JAXA?
I found out about JAXA a year before I graduated from technical college. When I was looking at a list of companies and government agencies offering internships, I saw the word "space" in Japan Aerospace Exploration Agency, and I thought they must be doing something big and interesting. So I came to the Tsukuba Space Center for a one-week internship, and I was assigned to a section where they were doing basic research for experiments to run on the International Space Station. And suddenly, space, which had seemed so distant, felt so near. I was very impressed that there are people who do this kind of thing seriously. So I sat for the employment exam.
--- Do you like working on rockets?
It's interesting and fun. I was also very moved when Epsilon launched. I had tears running down my face when it lifted off. Perhaps I felt the loneliness of the rocket as it was leaving us, and was moved by its courage as it went up alone toward faraway outer space. It was truly emotional, and I can't stop myself when I feel that way. A rocket launch is so awesome!
--- But what about when you looked at the scorched launcher after the rocket went away?
That brought me back to reality. I thought, "Oh! I have something new to do!" But even if I had a job that was always fun and where everything always worked out well, I still don't think it would be as inspiring as my current job during a launch. When the rocket flew away, I'm certain I had these strong feelings precisely because I put had a lot of effort into the launch.