Tell us about your research.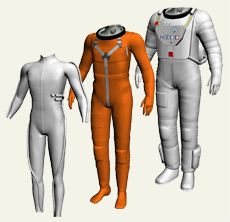 Structure of a next-generation advanced spacesuit. From left, the liquid cooling and ventilation garment, the pressure restraint garment, and the thermal micrometeoroid garment.
I am working on a next-generation advanced spacesuit. A spacesuit consists of three garment: closest to the skin is a liquid-cooling and ventilation garment, then a pressure-restraint garment, and finally the thermal micrometeoroid garment. I am responsible for the first and the last. The role of the liquid-cooling and ventilation garment is, obviously, to keep the body cool. The pressure-restraint garment maintains appropriate internal air pressure, and prevents air from leaking out of the suit. And the outside garment protects the human body from the extreme temperatures of outer space and from space debris. In space, the temperature reaches over 100°C in sunlight, and below -100°C without it. The difference in temperature is so great that extremely effective thermal insulation is essential.
Does the inside of a spacesuit get so hot that it needs cooling?
Because a spacesuit is sealed, it cannot dissipate the astronaut's body heat, and the inside gets very hot. Without a cooling mechanism, the astronaut's body temperature can keep rising, and that would eventually turn deadly.
How does the cooling undergarment work?
The current cooling garment works by circulating water through tubes all over its surface. But the one we're designing at JAXA combines liquid-cooling and air-cooling systems.
Why do you need both?
Let me explain briefly how we got the idea. The United States developed the first spacesuit during the Gemini Program in the 1960s. It had an air-cooling system, using a fan to generate airflow that would dissipate heat. But that technology didn't keep the astronaut cool enough. So NASA shifted to a liquid-cooling system, by running tubes through the garment and circulating cold water through them. That turned out to have another disadvantage: when an astronaut is working in space and getting hotter and hotter, he starts to sweat profusely, and cold water is not enough to evaporate the sweat. The sweat remains on the skin, and it feels sticky and unpleasant. So we thought sweat could be evaporated by blowing cool air on the liquid-cooling and ventilation garment, and we decided to use a combination of liquid cooling and air cooling.
Have you tested this technology on humans yet?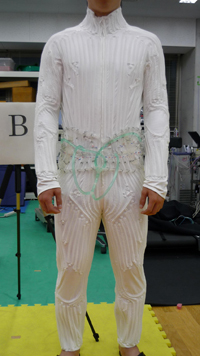 JAXA's experimental liquid cooling and ventilation garment.


Working with a manufacturer, we made a liquid cooling and ventilation garment for research, and ran experiments with test subjects actually wearing it. We found the garment was still comfortable even after the person started to sweat, and its cooling performance was also good. JAXA's cooling garment uses a cutting-edge material known as nanofiber, which can quickly absorb and evaporate sweat. This new material also improves cooling efficiency, as it enhances contact between the skin and the garment. Also, our liquid cooling tubes, which run through the surface of the garment, are about 30 percent shorter than those in NASA's spacesuits.
Does that make the spacesuit lighter?
The tubing is only about 3 millimeters in diameter, so making it 30 percent shorter doesn't make it much lighter. But with less tubing, the spacesuit becomes more mobile. Another advantage is that shorter tubing needs less water, which means less power consumption for the pump.
What is the ultimate goal of this research?
The goal is to get the technology to perform well enough that we can test a prototype in space. First of all, we want to keep the astronaut both cool and comfortable. Another goal is to reduce overall power consumption compared to conventional spacesuits. In addition to pumping liquids, our suit makes use of the fan that's already used to circulate gasses to the life support system. Our research on this new cooling garment started five or six years ago, and is shaping up very well. We've already solved many problems, and now we're just refining the technology so we will be able to build a prototype.
What do you mean by that?
For example, we would like to further simplify the connections between the liquid-cooling tubes. Some commercial cooling vests use only a single tube, but we use multiple tubes. By placing them in parallel, we can effectively cool down the whole body. But inevitably, there are many tube joints, which make the garment lumpy. Eventually we would like to simplify them.
What kind of uses can this garment have on the ground?
Through the JAXA Space Open Laboratory, which promotes the utilization of space technology for consumer products, there is an ongoing project to convert the garment for use by firefighters who work in very hot environments. We also think farmers could use the garment to prevent heat stroke when working long hours on a hot day.