Did your coordination continue after Hoshide went to space?
Of course. I continued to do all sorts of work until his EVAs were finished. In addition, there are many things about an EVA you can't know unless you actually try it. This time we only had one EVA scheduled at first, but then we had to plan a second, and then a third, because of equipment malfunctions...
Where did you watch Hoshide's spacewalks and how did you feel watching them?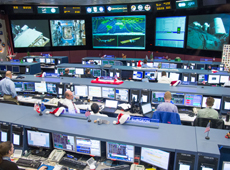 NASA Mission Control Center (courtesy: NASA)
There's a backroom in the Mission Control Center at NASA's Johnson Space Center. Using communications equipment and video, I monitored the EVAs from preparation to completion. While listening to the ISS astronauts and flight director talk to each other, I grasped what sort of situation it was, and if I was concerned about Hoshide's safety, or if something odd happened, I could ask NASA about it in detail and pass the information on to Japan. Tsukuba's KIBO control room also knows what's happening in orbit, but if you're not at NASA, talking to people, you don't really know everything. That's why I always stuck around there the whole time when Hoshide was doing an EVA. Anyway, I just watched and prayed that the EVA would completed safely and correctly.
These were Hoshide's first spacewalks, right?
That's right. But I think his EVA was so great that it didn't seem like his first time. His first EVA lasted more than eight hours, and when you're out there for so long, you have to control your breathing because you only have so much oxygen. In other words, he did his work calmly.
What was the atmosphere on-site when the spacewalk was aborted?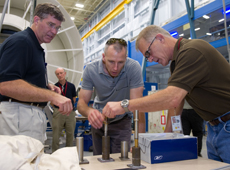 Technicians and astronauts meet to consider how to mount a bolt. (courtesy: NASA)
The atmosphere suddenly worsened. The reason was that a bolt on the replacement Main Bus Switching Unit (MBSU) wouldn't turn properly because there was dirt in the hole, but on the ground at the time we didn't know what was happening. Even so, the technical team on the ground anticipated the problem and considered various solutions, such as hammering it in, or somehow bending it. We also considered how much time we had if we just continued – how much battery life the spacesuit had and how much oxygen was left. We couldn't come to any immediate conclusions, so in the end the flight director decided to abort in the middle of the EVA.
The ground staff was busy dealing with that, right?
From that point on, veteran NASA astronauts, ground technical staff, and people from the MBSU's manufacturer got together and thought hard about a solution. Seeing that made a big impression on me. If we couldn't use the MBSU, we wouldn't be able to supply power to the ISS, so what we did next was hugely important. That's why we wanted to fix it fast, any way we could.
Then, finally, ISS astronauts Williams and Hoshide were able to fasten the bolt using a solution the ground team came up with, and cheers erupted in NASA's Mission Control Center. I think this is a true example of a success achieved by the ground and ISS crews working as one.