Were you interested in space as a child?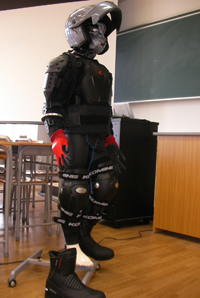 A display model of the Knight Suit spacesuit, invented by Prof. Tanaka
I wasn't particularly interested in space, but if anything, I liked watching space anime on TV. For instance, there was an anime called "Tekkaman: The Space Knight." Tekkaman's spacesuit was very cool, and I thought I wanted to make and wear such a spacesuit myself someday. (laugh) I completely forgot about this for a long time. But one day, after I started working on spacesuits, it flashed across my mind, and I had a good look at Tekkaman's spacesuit.
Tekkaman's spacesuit?! (laugh)
To put it on, Tekkaman gets into the robot and shuts the door. This is an airlock. Then he wraps himself in something like long chains. That is, he applies pressure to prevent decompression sickness. And finally he puts on the spacesuit over top and takes off for space. From the time he enters the robot until he takes off, it takes only about 10 seconds. His only oxygen is in the helmet. I don't know how much thought was put into this anime, but the spacesuit I was working on in the U.S. actually used the same pressurization method – applying pressure to the wearer's body – so I was surprised at how realistic the anime was.
So your spacesuit is inspired by "Tekkaman: The Space Knight."
That's right. That's why I decided to name the spacesuit "Knight Suit," and I've trademarked the name.
It's a cool name. It sounds like the spacesuit could play an important role not only in space but also on the ground.
It is a cool name, isn't it? On the ground, I think the spacesuit could serve as safety wear for extreme environmental conditions, for example in extremely hot or cold places. But, actually, I am hoping it will be used for picking up space debris.
Today, space debris is a serious concern, and there is an idea to launch a robot to remove it. But I think it would be more effective to have humans do this, because people can better adapt to circumstances. To build the ISS and repair the Hubble Space Telescope, it was people who went to do these jobs. I'm hoping that the Knight Suit will play a role in that area.
People may laugh and say that this is all just a pipe dream. They may think that there is no need for a spacesuit because Japan doesn't have a rocket to launch a person into space. But when there is demand for spacesuits in the future, at least I want to be able to suggest one. It can't be built in a day, so I think we need to start now.
Yes. I think that there is meaning in continuing spacesuit research.
It's been almost 10 years since I started these experiments, in 2004. I am actually surprised I'm still doing it. (laugh) If you want to study space medicine, there is really no place to do it in Japan, and not much research money available. Nonetheless, I've been doing it because there are a lot of dreams about space. Talking about a dream is fun, and it stimulates my motivation. Thinking only about daily work gives me a headache, but thinking about the future cheers me up. It's fun to imagine an astronaut one day wearing my spacesuit! To tell you the truth, I am always talking about this kind of stuff to my students. (laugh) Students used to ask me if spacesuit research was my hobby. But these days, finally, although the number is still small, some students have started to show interest in this work, just because they find it interesting. I can't force them, but it makes me happy if even one student becomes interested in spacesuits. I would like to continue telling students about my dreams.
Your dreams seem to keep opening up.
I guess so. There are many things I want to do. Oftentimes I fail, but the failures are gradually becoming less frequent, and I like that. In the U.S., my first job was to make laboratory equipment for spacesuits. I had never done anything like that before, so it was a matter of repetition: building it and wrecking it. The experience was definitely good training for me, though. There were times when I felt dejected because I couldn't do it right no matter how many times I tried. But as I improved, little by little, I became confident that someday I could do it right. When I couldn't achieve the result I wanted, I thought hard about a solution. I think that it was good training. Thanks to that work, the process of trial and error no longer bothers me so much.