Q. Give us an example of how you've used satellites to deal with volcanoes.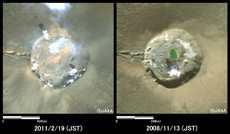 A crater observed by DAICHI before an eruption (right) and after (left). The post-eruption image shows that lava remains in the crater.


A recent example I can give you is the eruption of Mt. Shinmoe last year. When it erupted in January 2011, the summit crater spewed out lava. We asked JAXA to make precise observations using DAICHI, so we could get details on how the lava was spreading inside the crater. Based on DAICHI's imagery, we were able to issue an eruption warning with clear, specific information: "The lava dome has expanded to a diameter of around 500 meters."

The JMA issues Volcanic Alert Levels along with eruption warnings. There are five levels, based on the nature of the volcanic activity, the level of danger should there be an eruption, and any required disaster-prevention measures. We've named the levels in a way that's very easy to understand: "Normal," "Do not approach the crater," "Do not approach the volcano," "Prepare to evacuate," and "Evacuate." In the case of Mt. Shinmoe, DAICHI provided crucial data that allowed us to make the decision to issue the eruption warning and Volcanic Alert Level.

DAICHI's observational data also helps detect crustal deformation caused by an eruption. With interferometric images from DAICHI's synthetic aperture radar (SAR), we could see the swelling of the crust prior to the eruption – due to an underground accumulation of magma northwest of Mt. Shinmoe – as well as the crust's contraction afterward. Even though DAICHI is no longer operating, we know that the crustal deformation around Mt. Shinmoe continued after the last eruption in September 2011, and finally calmed down in December 2011.

Mt. Shinmoe still has lava in the crater, so there's a continuing risk of a sudden eruption, and we are continuing to monitor the volcanic activity there. I'm anxiously looking forward to the safe launch of the next Advanced Land Observing Satellite (ALOS-2), so that we can continue volcanic observations from space.
Q. How many active volcanoes are there in Japan now? Is the JMA monitoring all of them?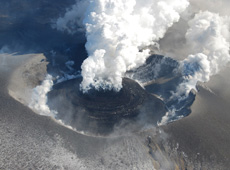 Sakurajima crater, photographed from a helicopter of the 72nd Kanoya Air Detachment, Marine Self-Defense Force. Japan has 110 active volcanoes. (courtesy: JMA)
The JMA defines volcanoes as active if they have erupted in the past 10,000 years, or if they are currently undergoing fumarolic activity (i.e. emitting smoke). Japan has 110 of them. That makes us one of the most volcanic countries on Earth, since there are only about 1,500 active volcanoes worldwide. But Japan has many kinds of active volcanoes, from those with very sustained activity causing frequent eruptions, such as Sakurajima in Kagoshima, to ones that have not erupted in a very long time. There are 47 particularly active volcanoes that have erupted regularly in recent years or have experienced increased volcanic activity in the past century. We monitor these continuously with seismographs, atmospheric vibration sensors, GPS, tiltmeters, monitoring cameras, etc.

Speaking of which, there's been talk lately about whether Mt. Fuji is going to erupt, and it is in fact one of the 47 volcanoes under continuous monitoring. Right now there is no evidence from the observational data that its volcanic activity is changing. Since we haven't seen any signs of an impending eruption, its Volcanic Alert Level is currently 1, or Normal.