Q. DAICHI and ALOS-2 both use L-band SAR. Why is that important?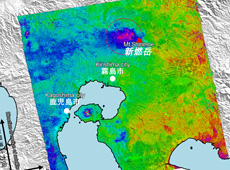 Crustal deformation caused by an eruption of Mount Shinmoe, imaged by PALSAR aboard DAICHI. The image indicates that sedimentation has occurred within the red circle.


Japan is the only country that has flown satellites with L-band radar.
Radar satellites have three different kinds of bandwidth: L band (1 GHz), C band (5 GHz), and X band (9 GHz). L band has the lowest frequency. The advantage of using low-frequency radar is, for example, that radio waves can penetrate even a deep forest with many fallen leaves, to reach the ground and bounce back. This enables us to track the movement of the earth's crust, which is important for a country like Japan, where there are many earthquakes.
Q. When a disaster has happened, there is a great need for immediacy. Are there any improvements on that point?
Of course it is important to receive satellite data promptly. ALOS-2's transmission rate has been improved to 800 Mbps, five times faster than that of DAICHI, so it will be possible to acquire data on a disaster in Japan almost in real time.
Q. Are you attempting anything new with ALOS-2?
One of the things that have helped us improve ALOS-2's resolution is a new material called gallium nitride (GaN). I said earlier that ALOS-2 can output stronger radio waves. We've achieved this by using gallium nitride in the transmitter. It's the first time this material is being used in space.

Gallium nitride not only allows enhanced radio-wave output but also releases less heat. That means the satellite consumes less power, which can lengthen its lifespan. Some people may think using a new material is a risk, but after conducting a good number of experiments, we were convinced it would work.