Q. How did people in the affected areas respond to JAXA's efforts?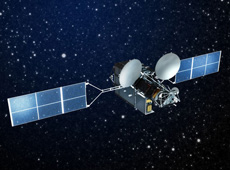 Wideband InterNetworking engineering test and Demonstration Satellite KIZUNA (WINDS)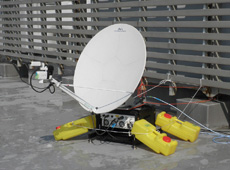 One-meter antenna for KIZUNA, set up at a local disaster-management office in an affected area
We received many compliments. However, at the same time, many local government officials said they wished they had known about JAXA's capabilities earlier, so they could have asked for help immediately after the disaster. Prior to the earthquake, we had already conducted disaster drills using our satellites with some local governments. But we didn't have such an agreement with Iwate Prefecture, and it was only through disaster-management staff from Niigata Prefecture – who were working with JAXA on a disaster drill at the time – that Iwate staff found out what we could offer. It was then that we fully realized the importance of PR to our disaster-management work.

Also, previously, antennas were set up mainly at prefectural and city government offices, but now there is a desire to install them in as many places as possible, such as evacuation centers. So we have received a request for easier setup of ground antennas, so that disaster-prevention workers can assemble them on their own. While the setup for ground antennas for KIKU No. 8 takes only two hours, a KIZUNA antenna takes much longer. In both cases, though, they are still experimental instruments, so they have to be assembled by specialists.

But if JAXA dispatches specialists to set up antennas in an affected area, we still need help from some prefectural government employees. Of course we try to trouble them as little as possible, but we have no choice but to ask them for certain things, such as finding and preparing locations for the antennas, and arranging permits for us to drive on the expressway to reach the affected areas. Maybe such things caused the bottlenecks. We contacted other local governments that were affected by the tsunami, but even though they understood the utility of having satellite links, our offer was sometimes turned down because they had other priorities and could not spare the staff to work with us.
Q. Will there eventually be enough antennas ready to go, so that communication links can be established by local workers themselves?
When a disaster occurs, it is important to set up the antennas as soon as possible, because satellite communications are a lifeline for people in disaster zones. KIZUNA and KIKU No. 8 are technology-demonstration satellites, but if in the future such satellites are made for practical use, I think the antenna setup will need to be simplified.

After the earthquake last year, we brought both antennas and power generators with us, because power was down in many places. Also, Japanese communications companies always have extra mobile antennas ready in every region for emergency use, and when a disaster occurs, they can quickly set up a temporary link. However, it still takes time to recover the Internet connection, so I think that there is a need for Internet satellites, which allow immediate communications as soon as a mobile ground station is set up.