Q. Did you already have connections with municipalities before you started sending them images?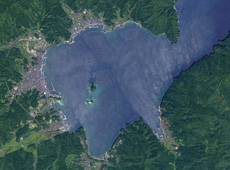 Yamada Bay, Iwate prefecture before the earthquake, as observed by DAICHI. (Photo taken on September 10, 2006.) (courtesy: JAXA/ Yokoyama Geo-Spatial Information Laboratory Co., Ltd.)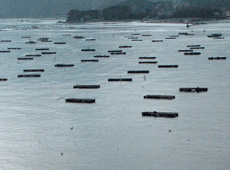 Yamada Bay, Iwate prefecture, photographed in December 2012. New cultivation rafts are visible. (courtesy: Ryuzo Yokoyama)
We'd done a lot of work for local officials in the Tohoku District through our local application projects with DAICHI imagery, so I had a network. My intent was to popularize the use of satellite data through joint research and other work with them. Because of these relationships, I had local officials coming directly to me and asking, "Do you have any satellite images?"

For example, one of them was the municipal government in Yamada-cho, in Iwate. A few months after the tsunami, they requested a pre-quake DAICHI image of Yamada Bay. They cultivate a lot of seafood – oysters, scallops and wakame seaweed – and they had 4,000 cultivation rafts in Yamada Bay. All these rafts were washed away by the tsunami. If they couldn't restart the cultivation, then all the people in the fishing industry would lose their incomes. So based on the pre-disaster images, which showed the position of the rafts, they were able to restore Yamada Bay. Now, a year after the earthquake, they've brought back around 70% of the rafts.
Q. What problems do you think need to be solved regarding the use of satellites in disaster response?
A crucial part of effective disaster response is getting information out quickly and making sure it gets to the people who need it. That's why it's important in normal times to partner with local communities and build a network. In the town of Yamada-cho, which I was just talking about, some people had the foresight to make good use of satellite data, but there certainly weren't many others who did. I feel that we still need to do more to popularize the use of satellite data by local communities.