Q. What are some of the applications you expect to see for Quasi-Zenith Satellites?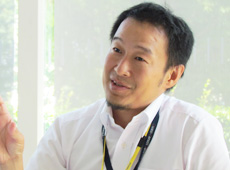 We can think of many fields, such as disaster prevention and precise agriculture, but, for example, there are also rail and meteorological applications. For rail transport, we are conducting joint research with the Railway Technical Research Institute on whether satellite positioning can be used to operate and control trains. Presently, train operation uses a method called a signaling block system to prevent rear-end collisions and crashes. When a train's wheels roll onto a certain segment of track, it creates a flow of electricity. This tells the operations center precisely where the train is. Workers walk along the tracks at night, after the trains stop running, to inspect the equipment and make sure it's working properly, but this places a heavy burden on railway companies, especially in outlying areas with small populations. Thus, it is conceivable that we could install a position signal receiver to manage a train's position. Combining MICHIBIKI with GPS in mountainous areas where you cannot get location information with GPS alone could make positioning possible here as well. In addition to contribution to reducing maintenance costs, I think this would also help streamline operations and assist drivers.

Furthermore, Dr. Toshitaka Tsuda of the Research Institute for Sustainable Humanosphere is working on predicting unexpected brief localized downpours. He is doing this by using MICHIBIKI receivers to investigate the amount of water vapor in the atmosphere. Until now he had been using GPS satellites to estimate the amount of water vapor over a broad area, at an angle of elevation of 10 degrees or greater. But because MICHIBIKI is positioned right overtop areas of Japan for hours at a time, he can get higher-resolution readings of the distribution of water vapor by pinpointing the vapor from directly above. Unexpected downpours are a meteorological phenomenon that occurs over a narrow area, so research is being conducted to find out whether MICHIBIKI's observational data can help prevent disasters through weather forecasting and timely warnings.

We hope we can expand the range of applications for the Quasi-Zenith Satellite System to encourage more people to use it before we put it to full-scale practical use.