Q. What are the issues involved in commercializing IMES?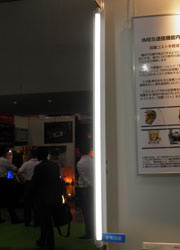 LED light with IMES transmitter (courtesy: Ricoh Company, Ltd.)
The biggest issue is that mobile phones capable of reading IMES signals are still not commercially available. You can say the same thing about MICHIBIKI. Recently, American manufacturers have started selling receivers that can read MICHIBIKI's signals, but mobile phones are still not compatible with the satellite. Many mobile phone chips have GPS receivers that use large-scale integration (LSI). Just rewriting the chip's software a little can give the phone the ability to read Quasi-Zenith Satellite signals as well as IMES signals, but that hasn't been done. All mobile network carriers are interested in IMES, but we cannot foresee how far the system can go commercially. No matter how wonderful it may be, I don't think that businesses will believe in it unless we can show them a practical use for it, so I think it is important to provide more examples.

Plus, there is the problem of who will pay to install indoor transmitters. A transmitter is about as big as a business card, and costs tens of thousands of yen. This will cost money to install, because the transmitters need to be placed 5 to 10 meters apart, and wired. However, Ricoh Company, Ltd. recently came out with a prototype of a fluorescent LED lamp with a built-in IMES transmitter. With this kind of transmitter, there is no need for new wiring. The IMES Consortium would like to ask the Japanese national and local governments to install transmitters. This is because IMES technology can be used as a safety tool in disaster response. I don't think that's a bad proposition for governments, because if people use the transmitters for business and generate a profit, tax revenue will go up, which would help pay for the devices.