Q. QZSS can also perform in Asia and Oceania when it is in orbit over those regions. Are there opportunities to use the QZSS satellites as a diplomatic tool, or to expand the positioning and navigation service to other countries?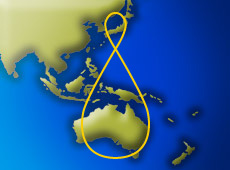 The orbit of a quasi-zenith satellite enables it to perform over Asia and Oceania.
At the moment, one of our objectives as the government is to develop overseas markets. To achieve this, we are promoting infrastructure packages and exports of space systems. An infrastructure "package" means that we offer complete solutions through space utilization, along with satellites and rockets. More precisely, we not only export space technologies and facilities; we also help our client countries develop their own human resources and build industries in public-private collaboration.

From a technological point of view, Japan's rocket launch services and satellites are excellent. But they are facing tough international markets today, because of their weak cost-competitiveness, which is also affected by the strong yen. So we have to offer more than just products. If we want to sell a satellite, for example, we think it is important to offer added value that will bring benefits to the client country, such as construction of ground facilities, human-resources development, access to Japanese satellite data, or helping develop a new industry that uses satellites.

Also, if a client country hopes to establish its own governmental space agency, we can look at including intergovernmental cooperation in the package. Emerging Asian nations are advancing economically, and are especially interested in space utilization. By working with these countries government-to-government, we would also like to improve the international competitiveness of our own country's space industry.
Q. Will QZSS be an attractive product in the global market?
It's important to understand that Japan's QZSS is designed to complement and reinforce the United States' Global Positioning System satellite network. About thirty GPS satellites orbit the Earth, covering most of the globe. However, there are many places in Japan where the GPS signal is weak or non-existent, such as urban areas with an abundance of tall buildings, and mountainous or canyon areas. QZSS flies almost directly over Japan, so that its signal can penetrate both urban and natural canyons, and provides positioning, navigation and timing information to complement GPS. By combining data from the GPS and QZSS satellites, we will be able to improve positioning and navigation capabilities no matter where you are in Japan. The concept of complementing GPS is unique to Japan. With the objective of enhancing the use of GPS and QZSS, we aim to expand in the Asia and Oceania regions, where GPS is as popular as in Japan, working together with the United States.

In addition, the GPS satellites are precise within about 10 meters, but with augmentation signals from QZSS, their precision can be improved up to about two meters, or even a few centimeters. The United States and Europe also separately have satellites that reinforce global navigation satellite systems, because the ionosphere, for example, is different over each region, and it is necessary to come up with means to improve the precision for each region.

So, unlike the United States' GPS and Russia's GLONASS, which cover the entire globally, the QZSS satellites provide services specifically in Japan, as well as other countries in Asia and Oceania. We are anticipating that this unique Japanese technology, which enables a single satellite to complement and reinforce GPS, will be able to deploy in these regions as well.