Q. MICHIBIKI can also provide positioning in parts of Asia and Oceania. Is there interest in your work in the agricultural sector there?
Agriculture is a major industry in Asia and Oceania, so they are very interested in agricultural technology using MICHIBIKI. This year, Korea and Malaysia ran experiments using a MICHIBIKI signal receiver. In particular, they like MICHIBIKI's capability of enhancing GPS. Enhancing GPS usually requires a base station on the ground, which transmits complementary signals. But if the signals can be transmitted from MICHIBIKI in space, there is no need to build such infrastructure on the ground. This is a great advantage. In the future, it may become possible to export agricultural technology that uses Japanese positioning satellites, and to offer diplomatic support with the technology.
Q. What prompted you to start your research on farm machinery automation using navigation satellites?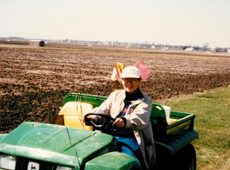 Prof. Noguchi during his time at the University of Illinois (courtesy: Noboru Noguchi)
When I was at the University of Illinois, in the United States, in 1997, research on agriculture automation was already underway there. Farms in the U.S. are so big, you cannot even compare their scale to that of Japanese farms. So they were already using navigation satellites to pinpoint the location of farm machinery. This is how I became interested in the research.

In 1998, there was the first demonstration in the U.S. of an autonomous self-steering tractor. I had a good feeling about the potential of the technology, but farm machinery in the U.S. is very big and very fast, so I thought that, in reality, letting such massive machines run autonomously without drivers would be difficult in terms of safety. But I thought it could work in Japan, considering the smaller size of Japanese tractors.