Q. Were you satisfied with the results of your experiment?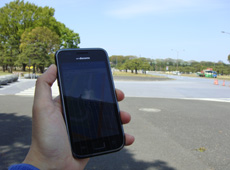 Reception of position signals improves near the Imperial Palace, where there are no tall buildings. (courtesy: Hideo Makino.)
MICHIBIKI was launched in September 2010, and I began this experiment in April 2011. At the time the receiver's performance still wasn't stable, and it couldn't receive position signals between buildings in Ginza very well, so the readings were off by about 10 meters. The problem is that navigation software assumes you are moving in the middle of the road. For example, when I'm walking on the sidewalk on the north side of Harumi-dori Avenue, it tells me to "move 3 meters to the south." And at times it thought I was walking on the south side, even though I was walking on the north side of the street. Harumi-dori is a wide avenue with three lanes of traffic in each direction, so this sort of mistake is a problem.

On the other hand, when I walk from Ginza to the Imperial Palace, reception improves, because there are no buildings nearby. There, positioning can be accurate to within a few meters. Places near tall buildings have room for improvement, but in places with good views, such as parks, I felt I could get accurate guidance.
Q. What issues did the experiment reveal?
First is the need to improve positioning accuracy. I think that visually impaired people need location information that's accurate down to one meter, which will allow them to distinguish between sidewalks and roads. Another thing is that using current map information, all they get is the information on the map - for example, "This is the Imperial Palace," or "This is City Hall." This isn't enough for a blind person. They need more detailed information: "You have crossed the moat of the Imperial Palace," or "This is the entrance to City Hall." Then we can equip mobile phones with a feature that allows the user to enter additional information to confirm they're in the right place.

In addition, as you know, MICHIBIKI orbits over Japan for only eight hours a day. It's the only satellite in the system right now, so for the time being the system is useable for eight hours a day. And unless MICHIBIKI can be used 24 hours a day, it will not be user-friendly for the visually impaired. Getting a message that says "Road guidance not available at this time" is inconvenient. So I would really like to see the second and third satellites launch soon.