Mutual Cooperation Agreement between
Japan Aerospace Exploration Agency and Japan Science and Technology Agency
Japan Aerospace Exploration Agency (JAXA)
Japan Science and Technology Agency (JST)
Two independent administrative agencies, the Japan Aerospace Exploration Agency (JAXA) and the Japan Science and Technology Agencies (JST), concluded a mutual cooperation agreement on February 19, 2015, for generating unique research and development, accelerating practical development, and delivering results to Japanese citizens in an effective way to ultimately achieve more creation of scientific and technological innovation through smoother and more efficient mutual collaboration and cooperation including sharing R&D resources and information exchange.
Based on this mutual agreement, we hope to optimize our R&D results as an all-Japan force to contribute to solving social problems and improving Japan's competitiveness, as well as to jointly address issues of fostering next generation human resources.
The following are the major contents of the agreement.
1.

Cooperation in digging up hidden but promising R&D issues and results, and promoting and developing them.

2.

Cooperation in practical application of R&D results in the aerospace field to society.

3.

Cooperation in facilitating education of younger generations and outreaching R&D results.

4.

Basic items for the agreement conclusion such as cost allocation, treatment of intellectual property, and confidentiality.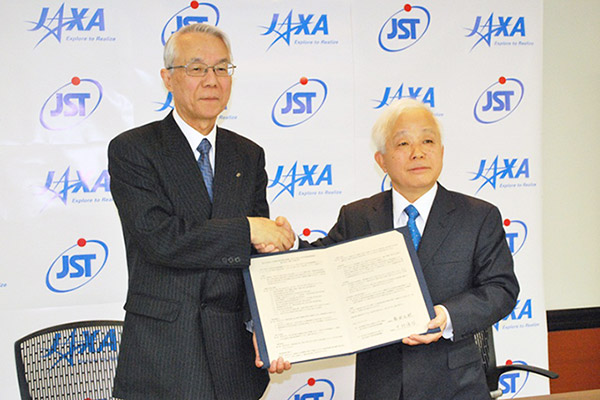 JST President Michiharu Nakamura (Left), JAXA President Naoki Okumura (Right)