Results for the second phase of the "Drop test for the Simplified Evaluation of Non-symmetrically Distributed sonic boom" Project (D-SEND#2)
National Research and Development Agency
Japan Aerospace Exploration Agency (JAXA)
Japan Aerospace Exploration Agency (JAXA) conducted the second phase test of the "Drop test for the Simplified Evaluation of Non-symmetrically Distributed sonic boom" Project (D-SEND#2) at the Esrange Space Center in Sweden on July 24, 2015 local time. It has been confirmed that the supersonic experimental airplane successfully flew over the Boom Measurement System (BMS)*1, and that booms*2 generated from the airplane were measured by multiple microphones.
It is the world's first successful flight test in which an experimental airplane designed with low sonic boom design concept to reduce both front and rear shock waves was flown at supersonic speed and had its sonic booms captured. As soon as detailed analysis of the BMS and flight data are completed, we will further report on our goal, which is to validate JAXA's original low sonic boom design concept.
Technology to reduce sonic boom is considered to be one of the most challenging issues in realizing the future supersonic civil transport. The D-SEND Project aims to validate JAXA's original low sonic boom design concept and to provide both design technology and data obtained through the flight test that will contribute to the deliberation of international standardization of sonic boom*3.
We would like to express our deepest gratitude towards the Swedish Space Corporation and other relevant parties for their fullest cooperation and support.
*1

The system to measure sonic boom not affected by atmospheric turbulence near the ground, by using multiple aerial microphones tethered to a blimp, which was developed during the first phase of this Project (D-SEND#1), conducted in May of 2011.

*2

Sonic boom: phenomenon where shock waves generated from aircraft cruising at supersonic speed are merged together and create enormous sound, much like explosion.

*3

At the Annual General Assembly of CAEP (Committee on Aviation Environmental Protection) a council of ICAO (International Civil Aviation Organization), scheduled to be held in 2016, international standardization on sonic boom will be discussed, in line with the development of future supersonic civil transport.
The Supersonic Experimental Airplane (S-cube Concept Model, or S3CM), developed using JAXA's low sonic boom design concept to reduce both front and rear shock waves, is launched using a balloon system at Esrange Space Center in Sweden. At 30km altitude, the experimental airplane is separated from the balloon. Accelerating into supersonic speed during its free fall, at Mach 1.3 with flight path angle of 50 degrees, the airplane glides over the boom measurement system (BMS), and generated sonic boom will be measured.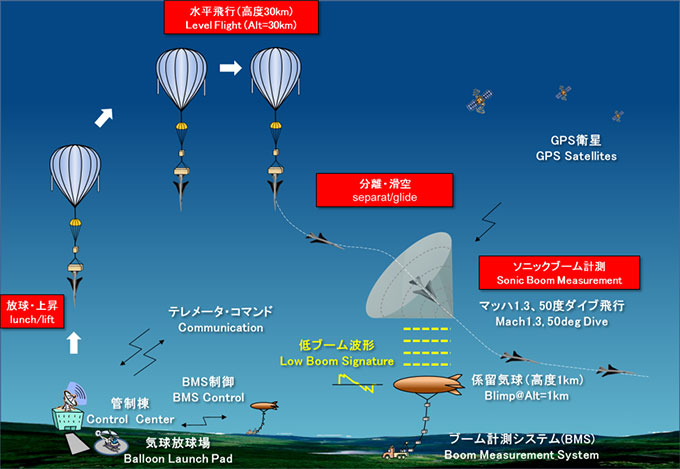 D-Send#2 Test Sequence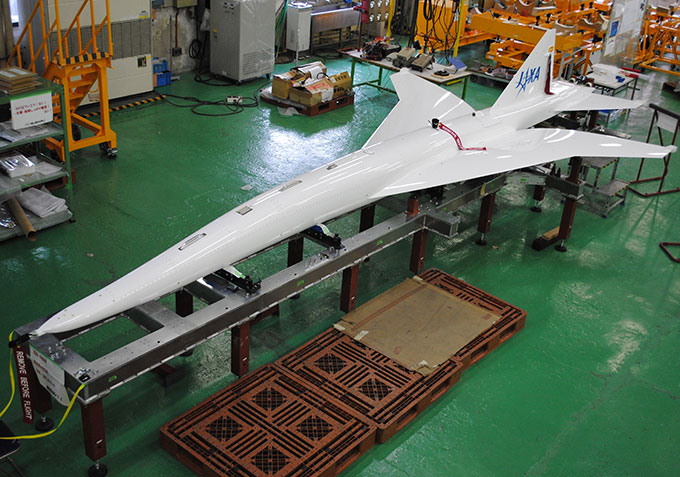 D-SEND#2 Supersonic Experimental Airplane
On July 24, 2015 local time, the test was conducted. The balloon was released at 4:43, and the supersonic experimental airplane was separated from the balloon at 10:00. The experimental airplane flew normally and was terminated safely within the test area.
| | |
| --- | --- |
| Balloon Released At | 4:42, July 24, 2015 (11:43 JST) |
| Separated At | 10:00, July 24, 2015 (17:00 JST) |
| Separation Altitude | 30.5 km |
| Velocity (measurement phase) | Mach 1.39 |
| Flight path angle (measurement phase) | 47.5 degrees |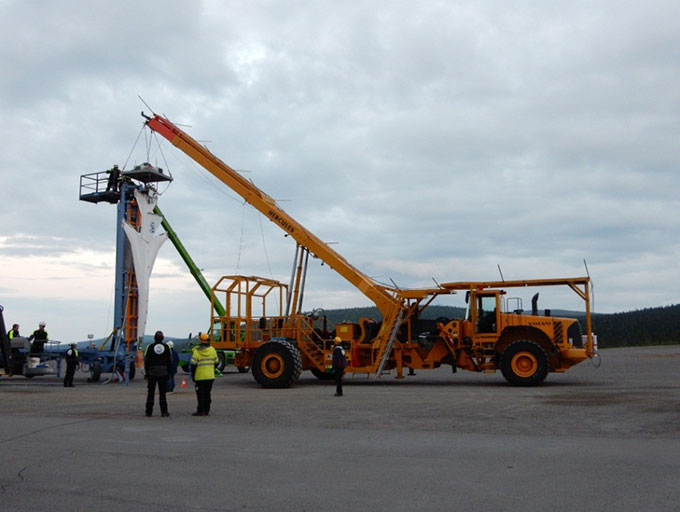 Getting ready for balloon launch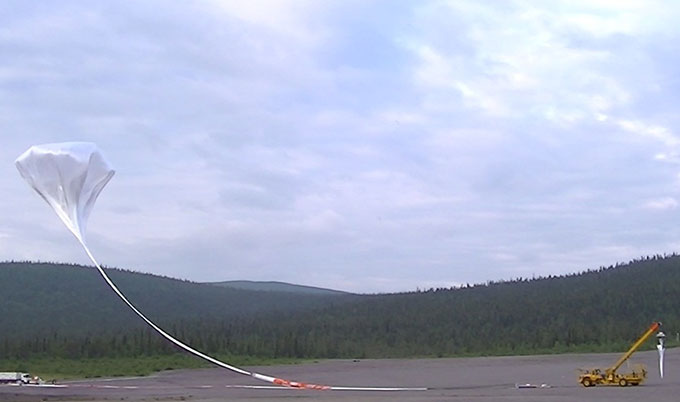 Balloon launch