Data Release of Global Forest/Non-forest Map by DAICHI-2
- Contributing to measures to tackle global warming
by understanding forest areas -

National Research and Development Agency
Japan Aerospace Exploration Agency (JAXA)
The Japan Aerospace Exploration Agency (JAXA) developed a whole-globe forest map of 25-meter resolution, "Global Forest/Non-forest map", using the DAICHI-2 (ALOS-2) launched on May 24, 2014, and released it from today free of charge. (Please refer to the website below.)
For achieving a long-term objective(*) of controlling global warming that was set by the COP21 held in Paris last year, it is imperative to globally understand and maintain forests which are an important source of absorbing CO2. To tackle such a global-scale issue, JAXA, in cooperation with the Japan International Cooperation Agency (JICA), will establish a "Forest Monitoring System" in the next Japan fiscal year starting this coming April.
Data from the Global Forest/Non-forest map will also be used for the above system as its basic information.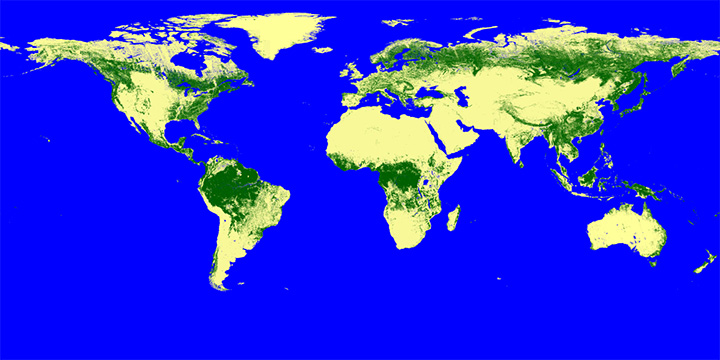 | | |
| --- | --- |
| * | The COP21 set a long-term objective of controlling the average temperature increase in the world within the 1.5 degrees Celsius range compared to that of the pre-industrial revolution, and that was well below the previously mentioned 2 degrees Celsius range. |
In recent years, deforestation has been expanding in tropical and sub-tropical areas and is one of the causes of global warming. Therefore, the United Nations and many governments in the world place priority on understanding forest areas and maintaining them as important measures against global warming for political decisions. The L-band Synthetic Aperture Radar-2 (PALSAR-2) aboard the DAICHI-2 with its high sensitivity and resolution uses a radio wave of long wave length (about 24 cm) that is suitable for observing the existence of forests (natural forests) and the current status of forest use. It can also perform observations regardless of weather conditions or time (day or night) hence it is especially advantageous to measure forests in tropical areas which are covered by clouds almost all around the year.

JAXA provided observation data of forest areas by the PALSAR aboard the DAICHI (ALOS) between 2007 and 2010, and it was utilized for monitoring illegal deforestation of the tropical rain forest in the Amazon region by the Brazilian government. As the DAICHI's operations were completed in 2011, monitoring by the DAICHI had been halted since then.

JAXA plans to provide the Global Forest/Non-forest map by the DAICHI-2 once a year to contribute to measures against global warming through the understanding of forest distribution. With this data, we can grasp the reduction and increase of forests in each area in the world based on spatial and temporal changes. Therefore, it is expected to be useful for government organizations around the world for their forest maintenance plans such as which area should be prioritized for monitoring and maintenance.

In the next Japan fiscal year starting from this coming April, JAXA plans to release more frequent change information on tropical forests to the world through the "Forest Monitoring System", which will be implemented in cooperation with the Japan International Cooperation Agency (JICA).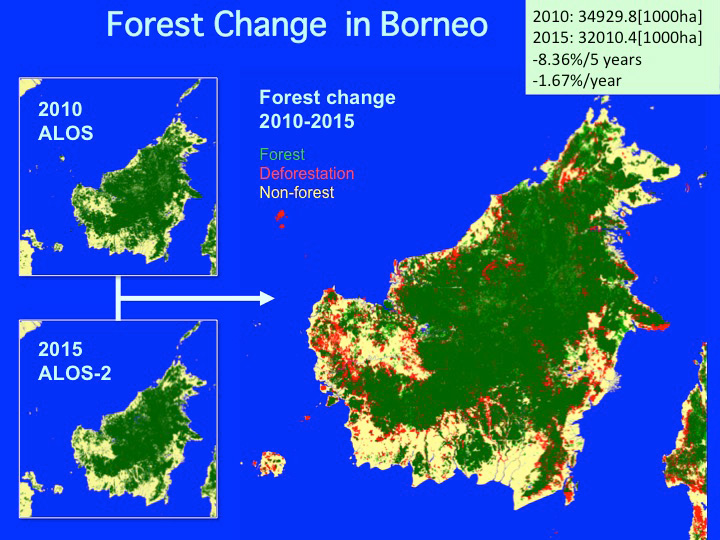 Deforestation on Borneo Island observed between 2010 and 2015 based on observations by synthetic aperture radars on the DAICHI and DAICHI-2. You can find deforestation everywhere. (The forest area has been reduced by more than 8 %.)