Preliminary flight demonstration test on airframe noise reduction technology
successfully completed

National Research and Development Agency
Japan Aerospace Exploration Agency (JAXA)
The Japan Aerospace Exploration Agency (JAXA) has successfully completed a preliminary flight demonstration test for the FQUROH project using its "Hisho" jet research aircraft at Noto Satoyama Airport, Ishikawa Prefecture, Japan, from September 12 to 30, 2016.

From the results of repetitive flyover noise source measurements, the noise reduction designs applied to the flaps and main landing gear of the "Hisho" were confirmed to be effective. In particular, noise from the flaps has successfully been lowered as intended at the design phase. It was the world's first flight demonstration test for noise reduction designs applied to high-lift devices.

The test was performed as part of JAXA's flight demonstration project for airframe noise reduction technology, FQUROH (Flight demonstration of quiet technology to reduce noise from high-lift configurations). The purposes of the preliminary flight demonstration are to establish all necessary processes required for flight demonstration such as aircraft modification and obtaining permission for flight tests as well as evaluation of the preliminary noise reduction designs.

Based on the evaluation results, JAXA will make further improvements to the noise reduction designs toward the flight demonstrations planned in 2017 under collaboration with the Aerospace Company of Kawasaki Heavy Industries, Sumitomo Precision Products Co., Ltd. and Mitsubishi Aircraft Corporation.
Comparison of noise sources at 1kHz band (preliminary results)
Without noise reduction design
(baseline aircraft)

With noise reduction design
applied to the flaps and main landing gear
(modified aircraft)
Preliminary flight demonstration of the FQUROH project
To verify the effectiveness of the developed noise reduction designs, a series of flyover tests was performed by making the "Hisho" jet research aircraft fly over the noise source measurement system (phased array of microphones) located besides the runway of Noto Satoyama Airport. At first, a fully modified configuration of "Hisho", applied with noise reduction designs for both the flaps and main landing gear, was used to repeatedly perform flyover tests to obtain detailed airframe noise sources. Then, for comparison, the partially modified version (noise reduction design to the flaps only) as well as the baseline version (without noise reduction design) of the "Hisho" were used to obtain reference noise data in the same way. The "Hisho" made 13 flights in total to perform 177 flyover noise source measurements at Noto Satoyama Airport between September 12 and 30, 2016.
The JAXA jet research aircraft "Hisho" flies low over the phased array of microphones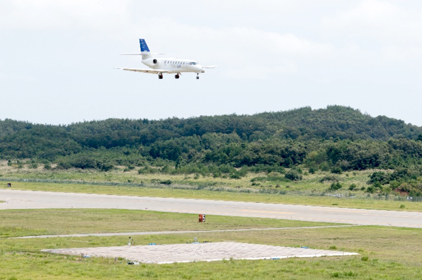 Noise reduction designs applied to the "Hisho" for preliminary flight demonstrations (marked in red)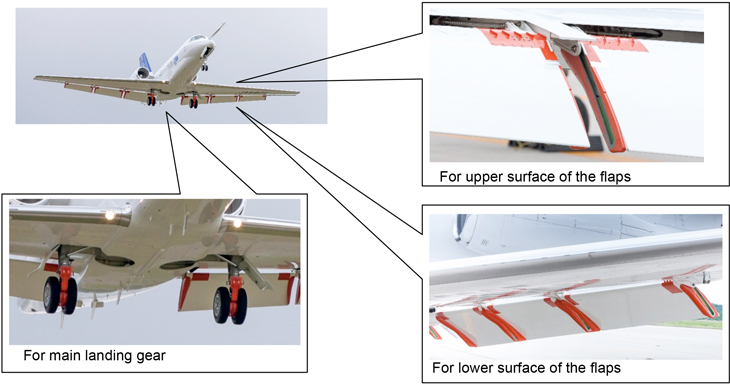 FQUROH project: objectives and timeline
The FQUROH project takes a three-step approach to establish advanced design methods for airframe noise reduction.
1.

Preliminary flight demonstration with "Hisho"
Establish flight test procedures including aircraft modification and flight permission

2.

Flight demonstration 1 with "Hisho"
Evaluation of noise reduction design methods

3.

Flight demonstration 2 with civil aircraft
Establishment of noise reduction design methods