Japan Aerospace Exploration Agency (JAXA) signs
Memorandum of Understanding
with Indian Space Research Organization (ISRO) to Promote
Collaboration in the Space Field
National Research and Development Agency
Japan Aerospace Exploration Agency (JAXA)

On 11 November 2016, Japan Aerospace Exploration Agency (JAXA) and the Indian Space Research Organization (ISRO) signed the Memorandum of Understanding (MoU) to promote collaboration in the space field in the presence of the Japanese Prime Minister, Shinzo Abe, and the Indian Prime Minister, Narendra Damodardas Modi, at the Japanese Prime Minister's Office.

Japan and India aim to deepen their collaboration cooperation in the space field since the bilateral talk between the two leaders held in September 2015. Under this MoU, JAXA and ISRO intend to strengthen the bilateral cooperation, and identify and carry out mutually beneficial and strategic cooperative projects on space applications, space exploration, space science, R&D and promotion of the space industry.

The MOU was signed by Naoki Okumura, President of JAXA, and Sujan R. Chinoy, Ambassador of India to Japan, on behalf of the Chairman of ISRO, A. S. Kiran Kumar.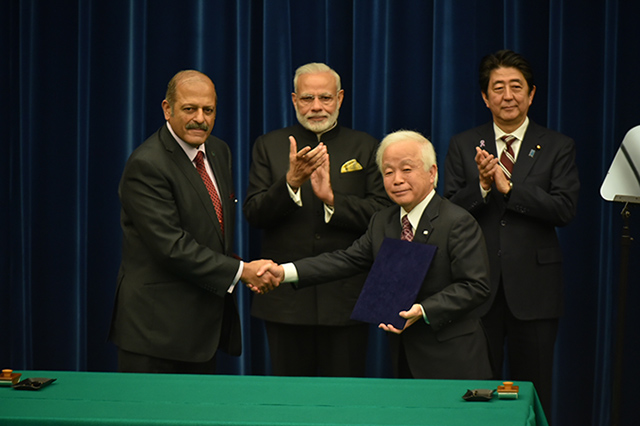 JAXA President Naoki Okumura(right) and Ambassador Sujan R.
Chinoy(left) shakes hands after the MOU exchange ceremony, in the
presence of Prime Minister Shinzo Abe and Prime Minister Narendra Modi.