Airport Low-level Wind Information (ALWIN)
starts operation at Haneda and Narita airports

National Research and Development Agency
Japan Aerospace Exploration Agency (JAXA)
"Airport Low-level Wind Information (ALWIN)", jointly developed by the Japan Meteorological Agency (JMA) and the Japan Aerospace Exploration Agency (JAXA), starts operation today at Tokyo International Airport (Haneda) and Narita International Airport. ALWIN provides low-level wind information (wind direction, wind speed, wind shear*, turbulence, etc.) around airports. While JMA's existing wind shear alert system uses radio voice communication to convey only minimum information about detected wind shears, the newly introduced ALWIN can transmit more detailed and precise wind profiles on final approach paths in real-time. This helps pilots and operators to monitor sudden changes in winds on approach and landing paths. Accordingly, safer landing operations become possible with ALWIN. This is the first case in the world where such an advisory system for low-level wind disturbances is put into actual service.

Low-level wind shears and turbulence often endanger flight safety and efficiency. In fact, roughly 100 go-arounds occur every year at Narita International Airport, causing an average of 20 minutes' delay in arrival for each go-around. Around 90 percent of these go-arounds are caused by low-level wind shears and turbulence. Also, in the past 10 years, two turbulence induced accidents during landing approach were reported at Narita, resulting in injury or death to crews and passengers. The introduction of "ALWIN" to Narita and Haneda will help improve air safety and reliability for on-time arrivals and departures.

JAXA is going to evaluate the actual effects of ALWIN implemented at these two airports. JAXA is also developing a low-cost version based on ALWIN technology.
| | |
| --- | --- |
| * | Wind shear: Sudden changes in wind speed and/or direction, tends to occures near the low pressure systems and fronts. |
How ALWIN works: Information provision flow
ALWIN uses JMA's airport based Doppler radar and Doppler lidar (1) to detect wind shears and low-level turbulence induced by local terrain and buildings (2). Both the measured and detected wind information is then converted into visually formatted graphic data, then transmitted to airline operators via web screen displays (3) and to pilots in cockpits via the ACARS* system (4). The ALWIN ACARS text message is still in the trial phase and is currently only available for Japan Airlines and All Nippon Airways.
| | |
| --- | --- |
| * | ACARS (Automatic Communication Addressing and Reporting System) is a digital data link system which is used in ground-to-air communication. Almost all commercial aircraft are equipped with ACARS. |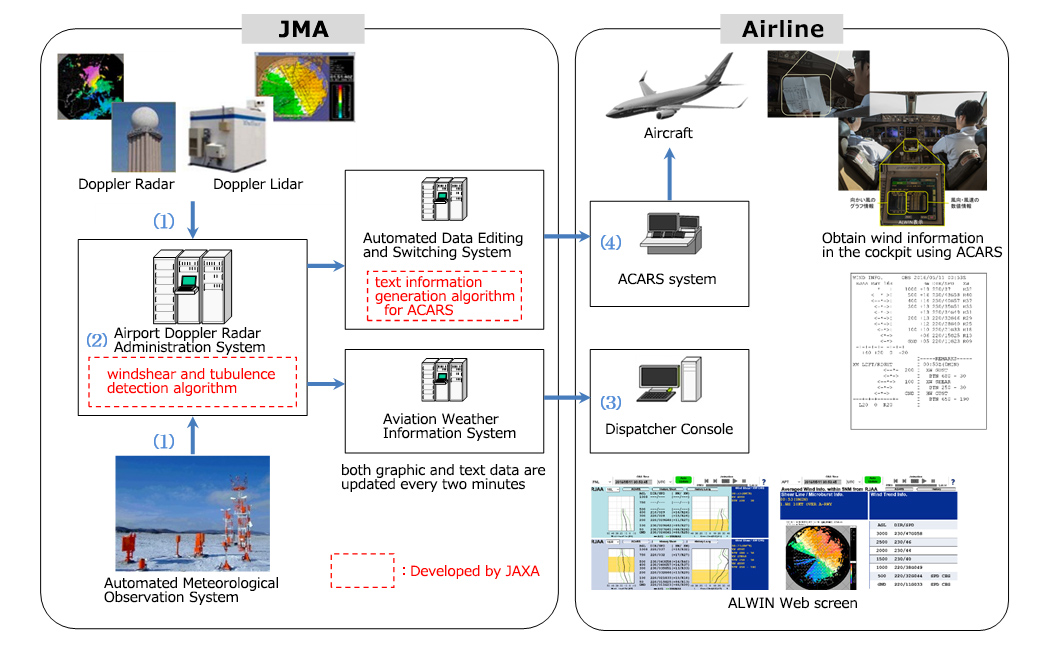 What types of wind information can be provided by ALWIN?
In comparison to the existing system that provides only minimum information about detected wind shears via radio voice communication (JMA's wind shear alert system), ALWIN can provide more detailed and precise wind profiles on the final approach path in real time. This allows pilots to control airspeed,thrust and attitude properly according to real-time wind situations, thereby enabling safer landing operations.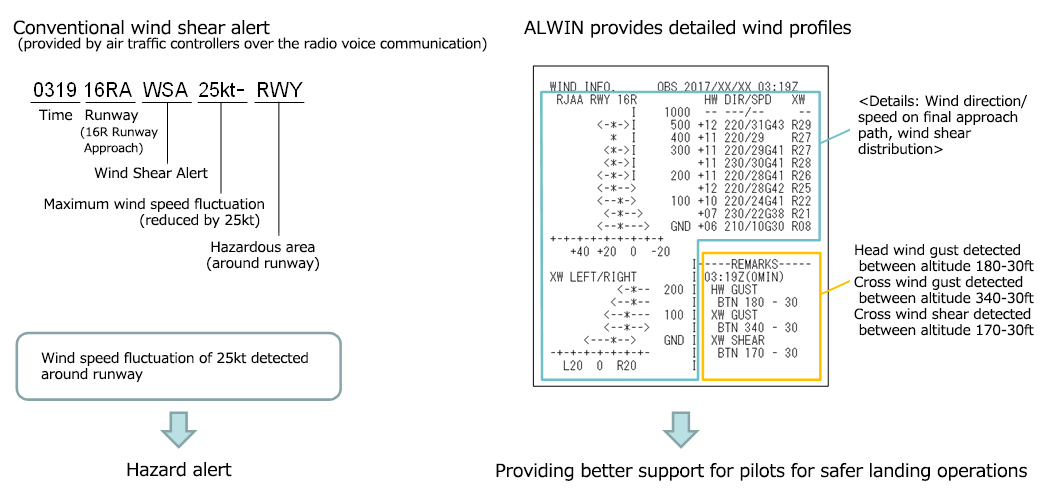 Roles and Responsibilities
JMA is responsible for wind measurements using Doppler radar/lidar and for overall operation of ALWIN as part of its aviation weather observation systems.

JAXA developed the automatic windshear and tubulence detection algorithm that forms a part of the JMA's Airport Doppler Radar Administration System (ADRAS). JAXA also developed an algorithm that generates graphical and numerical information for the ACARS data link system, which forms a part of the JMA's Automated Data Editing and Switching System (ADESS).
ALWIN system: R&D timeline
FY2009: Conceptual study for a low-level turbulence advisory system started at JAXA as part of the "Weather information technology" initiative under the "DREAMS (Distributed and Revolutionarily Efficient Air-traffic Management System)" project. http://www.aero.jaxa.jp/eng/research/star/dreams/)

FY2011: JMA and JAXA started a joint research initiative on low-level wind shear and aircraft safety.

FY2013: Operational evevaluation of ALWIN prototype started at Narita International Airport and Tokyo International Airport (Haneda)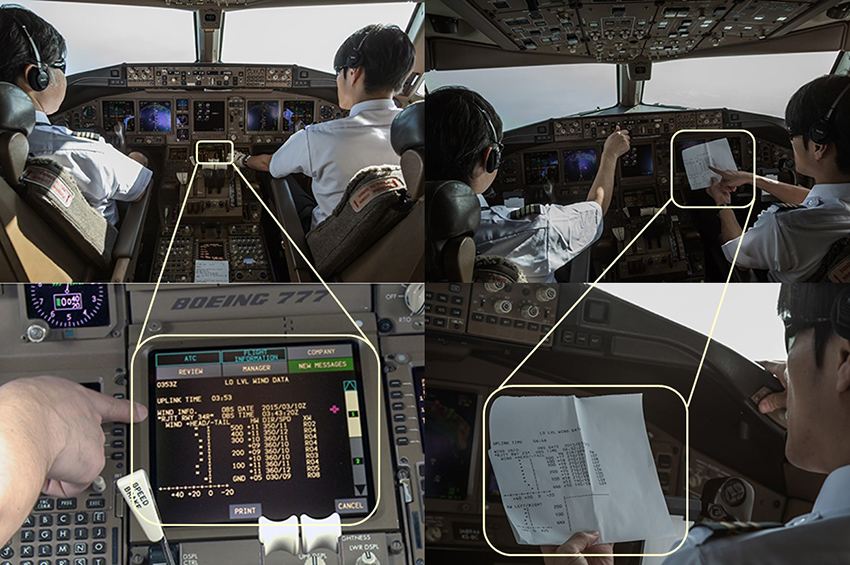 Evaluation of the ALWIN prototype in real flight
(Photo: Japan Airlines Co., LTD. )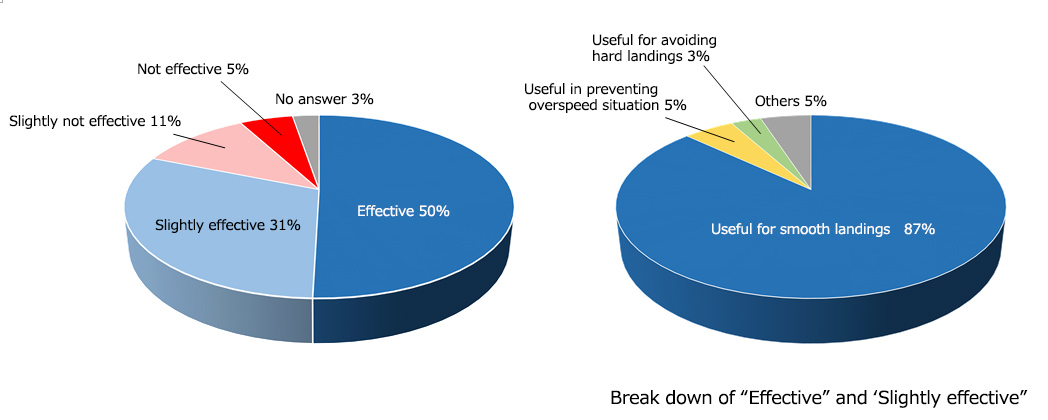 Pilots' comments on ALWIN usability
(Questionnaire results from the usability survey answered by 200 pilots)