KiboCUBE: Team from the Republic of Mauritius Selected for Third Round
and Extension of KiboCUBE Cooperation Programme

National Research and Development Agency
Japan Aerospace Exploration Agency (JAXA)
United Nations Office for Outer Space Affairs (UNOOSA)
The Japan Aerospace Exploration Agency (JAXA) and the United Nations Office for Outer Space Affairs (UNOOSA) have been cooperating under the KiboCUBE programme launched in 2015 to provide opportunities to deploy CubeSats from the Japanese Experiment Module "Kibo" of the International Space Station (ISS).

JAXA and UNOOSA have selected a team from the Mauritius Research Council for the third round of KiboCUBE, which called for applications from September 26, 2017 to March 31, 2018. (Reference 1). Due to the large number of applications for the third round, UNOOSA and JAXA have agreed to find an additional opportunity for a second entity from the third round applicants. The selection will be announced in northern hemisphere fall timeframe in 2018.

Also, JAXA and UNOOSA have agreed to extend the KiboCUBE programme for three more years. (Reference 2). Through KiboCUBE cooperation programme, JAXA and UNOOSA aims to contribute to the enhancement of space related technology in the developing countries, by utilizing Kibo's unique capability of CubeSat deployment system and UNOOSA's vast network with UN member states.
JAXA will further enhance Kibo utilization through cooperation with UNOOSA. Furthermore, JAXA will contribute to the Sustainable Development Goals (SDGs) and promote international cooperation in the field of space.

The announcement of the selection of third round of KiboCUBE and extension of the KiboCUBE cooperation programme took place using the opportunity of UNISPACE+50 (Reference 3).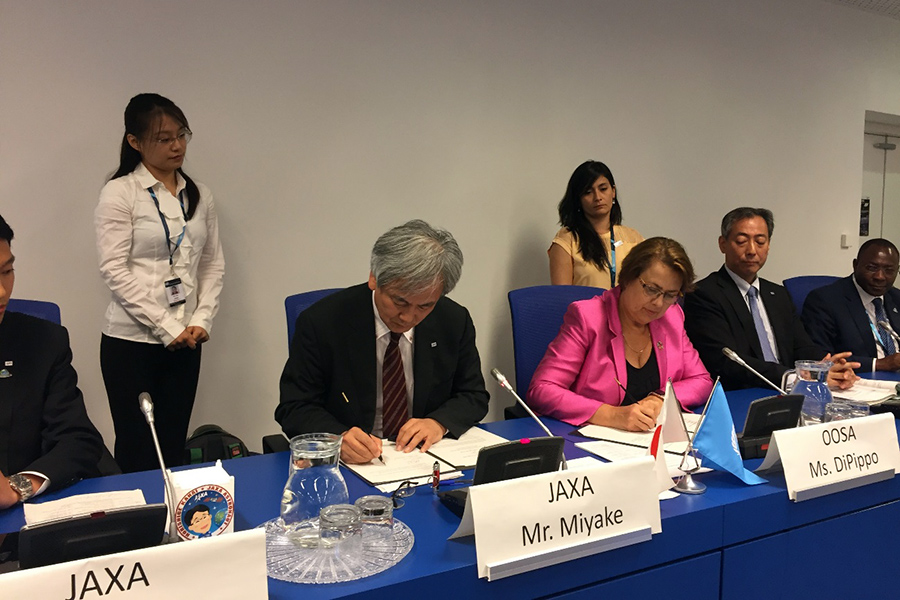 Signing ceremony of KiboCUBE programme extension during UNISPACE+50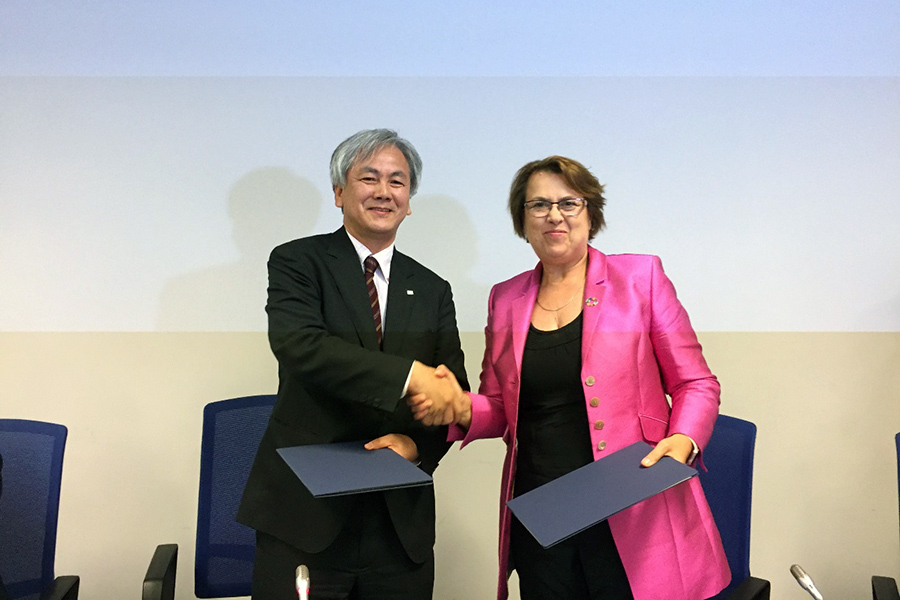 Signing ceremony of KiboCUBE programme extension during UNISPACE+50
(left: Mr. Masazumi Miyake, Director for International Relations and Research Department, right; Ms. Simonetta DiPippo, Director for UNOOSA)
[Reference 1] Selection of third round
Name of Satellite:MIR-SAT1

Selected Organization/Country:Mauritius Research Council/ Republic of Mauritius

Mission Overview::Collecting images of Mauritius and surrounding regions using longwave infrared (LWIR) thermal camera, technology demonstration of S-band high speed data transmission and reaction wheel, and capacity building

Size: 1U

Deployment from Kibo: expected in 2019
In addition to the above entity, JAXA and OOSA will select a second entity for the third round.
[Reference 2] Extension of KiboCUBE collaboration programme
Period: Extension from September 2018 to March 2021

Scope: Fourth and fifth round of KiboCUBE / deployment of CubeSat (1U) from Kibo (number of selected entity will depend on the applications received)

Roles and Responsibilites: Information for application will be issued by UNOOSA, and selection will be conducted by JAXA and UNOOSA.
Development and operation will be performed by the selected entity. JAXA will also provide technical support, conduct safety review, and will be responsible for the launch and deployment of CubeSat.
[Reference 3] About UNISPACE+50
Koichi Wakata, Director General, JAXA Human Spaceflight JAXA
It is exciting news that JAXA and the United Nations Office for Outer Space Affairs (UNOOSA) have reached an agreement to further the partnership in the KiboCUBE program which assists the sustainable development of space technologies in non-space-faring countries. I am delighted about the announcement that the first ever small satellite from Mauritius was picked in the third selection round of the KiboCUBE project. Currently, Kibo is the only module on the International Space Station equipped with a small- satellite deployment function. I am pleased about JAXA's contribution to the development of space technologies in various nations around the world utilizing the unique capacity of "Kibo".
Simonetta Di Pippo, UNOOSA Director
The UNOOSA-JAXA KiboCUBE partnership is a great example of a triangular capacity-building initiative, where UNOOSA partners with a space-faring nation to assist non-space-faring nations in the development of their space technology, research and exploration. The third round of the KiboCUBE programme is yet another exciting step towards increasing the space capabilities of countries and ensuring we close the "space divide" between those that have access to space and its benefits, and those that do not. My congratulations to the Mauritius Research Council for their selection for the next round of KiboCUBE. I look forward to seeing the development and deployment of the first Mauritian satellite.
Hon. Yogida Sawmynaden, Minister of Technology, Communication and Innovation, Republic of Mauritius
The Republic of Mauritius is deeply honoured that the first Mauritian Infrared Satellite initiative by the Mauritius Research Council, operating under the aegis of the Ministry of Technology, Communication and Innovation, has been selected for the 3rd round of the UNOOSA/JAXA KiboCUBE Programme. Mauritius intends to use its first CubeSat platform to acquire knowledge on satellite technology and how to efficiently collect and process land and ocean data coming from space. This big data analysis will lead to better monitoring, decision-making and management of both land based and maritime activities, and advancements in capacity-building, research and development and innovation, which will ultimately benefit the people of the Republic of Mauritius. We believe that this space project could serve as a model for other Small Island Developing States.