The Space Exploration Innovation Hub Center Co-Develops
a World-Class Small Motor with High Efficiency
National Research and Development Agency
Japan Aerospace Exploration Agency (JAXA)
ShinMaywa Industries, Ltd.
Oita University
Nippon Bunri University
Ibaraki University
Shizuoka University
Space Exploration Innovation Hub Center, National Research and Development Agency Japan Aerospace Exploration Agency (JAXA) has promoted R&D by game-changing technology for space exploration and also for a revolution in terrestrial technology.
Here the Space Exploration Innovation Hub Center and co-researchers have newly developed a small, high-efficient, and world-class motor.
The developed Motor Facts and Figures are as followed:
1.

Mass 25 grams, continuous operation with 50 watt of output power or above

2.

Over 80% efficiency variations from low- to high-speed rotation, from low to high output

3.

Over 85% efficiency at 15,000 rpm or above

4.

Very little heat generation
Use in Space Applications
The developed motor with high efficiency and low heat is very effective for space exploration instruments. Such features are desirable on the vacuum surfaces of the moon or in the thin atmosphere on Mars surface, where little heat is transferred by convection.
Use in Industrial Application
The developed motor can be used for Unmanned Aerial Vehicle whose mass directly correlates the flight time, for robot joints, and for driver systems with the precision measuring equipment which requires minimum temperature changes.
Joint research by JAXA, ShinMaywa Industries, Ltd., Oita University, Nippon Bunri University, Ibaraki University, and Shizuoka University, yielded the research and development of the new motor. The newly developed motor employs the high-speed and high-efficiency core that Yoshikawa Kogyo Co., Ltd., Kitakyushu City, Fukuoka, Japan developed and mass-produced with Vector Magnetic Characteristic Technical Laboratory and Nippon Kinzoku Co., Ltd. The manufacturing process involves the analysis, performance measurement, and evaluation technologies, and the design and the assembly that adopts those technologies comprehensively.
The details of the technological information will be addresses at the organized session of The 31st Symposium on Electromagnetics And Dynamics (SEAD31), to be held May 22 through 24, 2019, at the Suzukake Hall, Suzukakedai Campus of Tokyo Institute of Technology.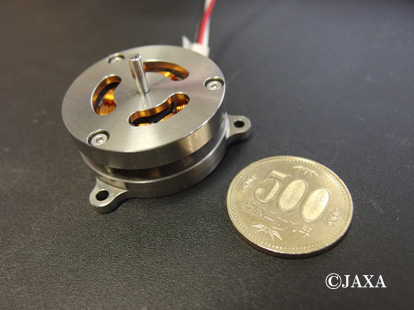 The newly-developed, small-size, high-efficiency motor with a jig for attaching a measurement device
Space Exploration Innovation Hub Center
Japan Aerospace Exploration Agency (JAXA) formed Space Exploration Innovation Hub Center on April 1st, 2015. This new center was established to help fulfill the 2014 policy entitled "Comprehensive Strategy on Science, Technology, and Innovation 2014 ‒ A Challenge for Creating Japan in a New Dimension." Consequently, public research institutions and agencies have had to perform strongly and contribute to innovation. Through the Innovation Hub Center, research projects will be developed and established within JAXA in an unprecedented way. Knowledge and specialists from various fields have been sourced to form a new research team. The center is located on the JAXA Sagamihara Campus and, as of April 2015, has approximately 30 staff. Work is focused in three areas:
1) Exploration technology in a wide range of unexplored areas, 2) Automatic and autonomous exploration technology, and 3) In-situ resource utilization (ISRU) technology. Space Exploration Innovation Hub Center develops game-changing technology in space exploration. We are aiming for a revolution in terrestrial technology while also improving space exploration methods.