JAXA and SKY Perfect JSAT Conclude an Agreement on the Transfer of the
Small Demonstration Satellite-4
Japan Aerospace Exploration Agency
SKY Perfect JSAT Corporation

We hereby announce that Japan Aerospace Exploration Agency (Headquarters Office: Chofu-shi, Tokyo; President: Hiroshi Yamakawa; hereinafter, "JAXA") and SKY Perfect JSAT Corporation (Head Office: Minato-ku, Tokyo; Representative Director, President and Chief Executive Officer: Eiichi Yonekura; hereinafter, "SKY Perfect JSAT") concluded an agreement on the transfer of the Small Demonstration Satellite-4 (hereinafter, "SDS-4") today. As a result of evaluating the proposals submitted by competing companies, JAXA selected SKY Perfect JSAT to be the transferee and operator of SDS-41, which has been owned and operated by the Agency.
For JAXA, this will be the first transfer of an artificial satellite developed by the Agency to a company in the private sector, and for SKY Perfect JSAT, SDS-4 will be the first low earth orbit (LEO) satellite to be owned by the company.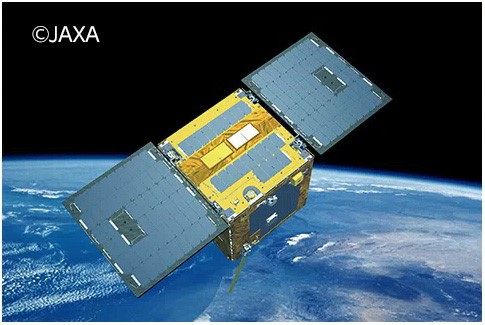 Recently SKY Perfect JSAT has been proactively providing ground station services for LEO satellite operators2 in addition to the conventional geostationary satellite services. In order to promptly transmit the voluminous data delivered from LEO satellites to the customers so that they can make effective use of the data, SKY Perfect JSAT uses its own ground station equipment for LEO satellites located in Hokkaido, Ibaraki and Okinawa. Moreover, it has also partnered with both Japanese and overseas ground station service companies3 to enhance the network infrastructure. The company has decided to own SDS-4 as part of the measures to achieve its vision for the space and satellite business, which has been upheld since fiscal 2018.
Among the artificial satellites operated by JAXA, some, such as SDS-4 , have already fulfilled their planned missions, and they are at a later stage for use. If companies in the private sector make proactive use of these satellites, it will help expand the scope of the space industry. JAXA deems the transfer of SDS-4 as the first step to this end.
For further promotion of the entire space industry, JAXA and SKY Perfect JSAT will make use of their respective strength as an aerospace explorer and a pioneer in the space business, respectively, referring to the Space Industry Vision 20304 formulated to expand the market of the whole industry.
【National Research and Development Agency Japan Aerospace Exploration Agency】
| | |
| --- | --- |
| President | Hiroshi Yamakawa |
| Location of the Headquarters Office | 7-44-1 Jindaiji Higashi-machi, Chofu-shi, Tokyo |
| About JAXA | JAXA is a core performance agency to support the Japanese government's overall aerospace development and utilization. The Agency conducts integrated operations from basic research and development to utilization. |
| Official website | https://global.jaxa.jp/ |
【SKY Perfect JSAT Corporation】
Representative

Representative Director, President and Chief
Executive Officer: Eiichi Yonekura

Establishment

November 1994

Head office location

1-8-1 Akasaka, Minato-ku, Tokyo

Business line

SKY Perfect JSAT is a leader in the converging fields of broadcasting and communications. It is Asia's largest satellite operator with a fleet of 17 satellites, and Japan's only provider of both multichannel pay TV broadcasting and satellite communications services. The company delivers a broad range of entertainment through the "SKY PerfecTV!" multichannel satellite broadcasting platform to a total of about 3 million subscribers. SKY Perfect JSAT's satellite communications services cover Japan and the rest of Asia, as well as Oceania, Russia, Middle East, Hawaii and North America, and play a vital role in supporting safety and security for society.

Official website

https://www.sptvjsat.com/en/

Website for the Space Business

https://www.jsat.net/en/

SKY Perfect JSAT Group Mission & Policy

https://www.skyperfectjsat.co.jp/en/about/principle.html
SDS-41 is a small demonstration satellite owned by JAXA. It is designed to verify new technologies for components and devices in space for the application of highly established technology to practical satellites and scientific probes. SDS-4 was launched on May 18, 2012 to fulfill the following missions:
Space based Automatic Identification System Experiment (SPAISE)
Flat Heat Pipe (FHP) On-orbit Experiment (FOX)
In-flight experiment of space materials using THERME (IST)
Quartz Crystal Microbalance (QCM)
Of these missions, the SPAISE mission is still underway.