International sales of Twin-QCM high-precision gas sensor
Nihon Dempa Kogyo Co.,Ltd.
National Research & Development Agency
Japan Aerospace Exploration Agency (JAXA)
Nihon Dempa Kogyo Co., Ltd. (NDK) and the Japan Aerospace Exploration Agency (JAXA) would like to announce that NDK has strengthened international sales of the Twin-QCM sensor, which the two organizations jointly developed to perform, under vacuum, high-precision measurement of outgases emitted from spacecraft components/materials.
(The completion of development of Twin-CQCM was announced in March 2017 and the sales of Twin-CQCM and Twin-TQCM sensor modules began in November 2018.)
Prior to the commencement of international sales, it was ensured that Twin-QCM meets the European Union's CE marking*1 requirements. By placing CE mark label, it has been proved that Twin-QCM satisfies international standards, as well as complies with EU's directive s for products to be exported to the region, making it possible for the sensor to be sold on the European market.
Twin-QCM outperforms existing systems in terms of precision and stable temperature compensation and is expected to greatly help spacecraft developers in their efforts to address the issue of contamination*2. The contamination is caused by spacecraft outgassing, and JAXA is already utilizing the sensor to gauge outgases emitted from materials used for satellites. JAXA will expand the usage of the sensor to include the measurement for a satellite in its entirety in order to pursue optimum measures against the contamination.
In addition to the space industry, NDK is also eyeing other industries as its targets and promoting Twin-QCM for use in the analysis of adhesives for in-vehicle equipment as well as of heat-dissipating and other organic materials. The company will exhibit the sensor in the Automotive Engineering Exposition 2019 Nagoya*3, which will be held at the Port Messe Nagoya between July 17 and 19. NDK is planning to fully roll out the sensor as a product developed jointly with JAXA which bears the logo of "JAXA COSMODE*4" in organic material, semiconductor, construction material, and other industry markets where precise gauging of outgases is of primary concern to curb contamination.
*1

CE marking
A manufacturer's self declaration mark that certifies conformity with EU standards, which are required to be attached to designated products sold in the European region.

*2

Contamination
In the outer space, contamination caused by outgasses from plastics, adhesives, and other materials used for manufacturing poses a problem. Contamination on the surfaces of telephoto lenses equipped in earth and astronomical observation satellites may deteriorate the optical performance and image quality and even reduce the lifespan of the observation instruments. Therefore, the selection of appropriate materials based on accurate measurement is essential to minimize the emission of outgases.

*3

Automotive Engineering Exposition 2019 Nagoya
An automotive engineering exhibition organized by the Society of Automotive Engineers of Japan, which will be held at the Port Messe Nagoya between July 17 and 19. NDK will exhibit the sensor in Booth No. 109.

*4

JAXA COSMODE
JAXA's brand granted for use on products developed based on any of JAXA's patents or proprietary technologies or any of JAXA's own images, videos, or other work. The brand is aimed at translating the achievements of space exploration into social development and communicating how beneficial aerospace can be to people's daily lives, through collaboration with businesses and other organizations.
【Twin-CQCM sensor module】
QCM sensor (cooling down with Liquid Nitrogen)

CQCM used in Liquid Nitrogen and wide temperature range.
【Twin-TQCM sensor module】
TQCM (Thermoelectric QCM)

Thermoelectric element cooling type QCM with peltier device inside.

It is expected to be used in industries other than space, cooling down without Liquid Nitrogen.
【Twin-QCM sensing unit (4ch)】
Working with both Twin-CQCM & TQCM

1ch type sensing unit is also available.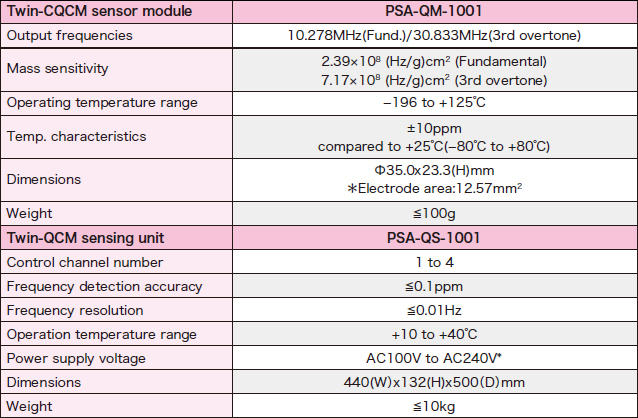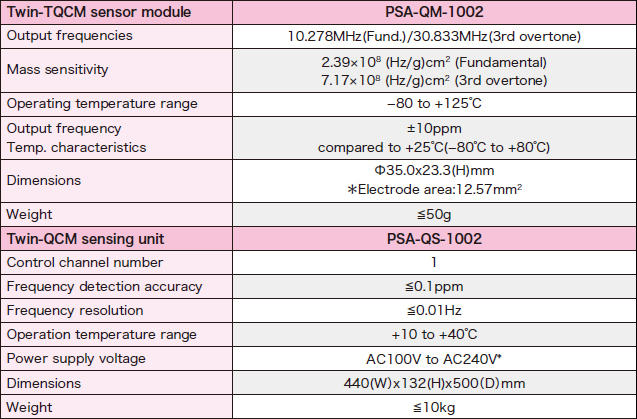 The power supply voltage range to be used may be limited depending on the country of use and region.
For more detail of the products, please contact Industrial device sales dept. of Nihon Dempa Kogyo Co.,Ltd.
Contact:
6th floor Merkmal Keio Sasazuka Bldg., 1-47-1, Sasazuka Shibuya-ku, Tokyo 151-8569, JAPAN
TEL:+81-3-5453-6736 FAX:+81-3-5453-6740
e-mail: bio-m[a]ndk.com (Please change [a] to @.) WEB: http://www.ndk.com