GITAI and JAXA to Embark on the Co-creation of World's First Space
Robot Business
GITAI Japan Co., Ltd.
National Research & Development Agency
Japan Aerospace Exploration Agency (JAXA)

 GITAI Japan (GITAI, CEO: Sho Nakanose)*1 and the Japan Aerospace Exploration Agency (JAXA, President: Hiroshi Yamakawa) will co-create a new business concept for the robotization of work in space as a project of the JAXA Space Innovation through Partnership and Co-creation (J-SPARC) initiative*2. Under this project, the organizations aim to identify tasks in space that require robotization, develop robotics technologies that will carry out the tasks, and provide services using robots.
 GITAI will, for the first time as a private-sector company in the world, perform a technology demonstration of its robots designed for the autonomous control and automation of the processing of specific tasks. JAXA will support GITAI's activities through technical cooperation while also aiming to expand its knowledge on space robotics through this project. GITAI and JAXA will also explore new services based on space robotics that can be provided for the International Space Station (ISS) and other future missions.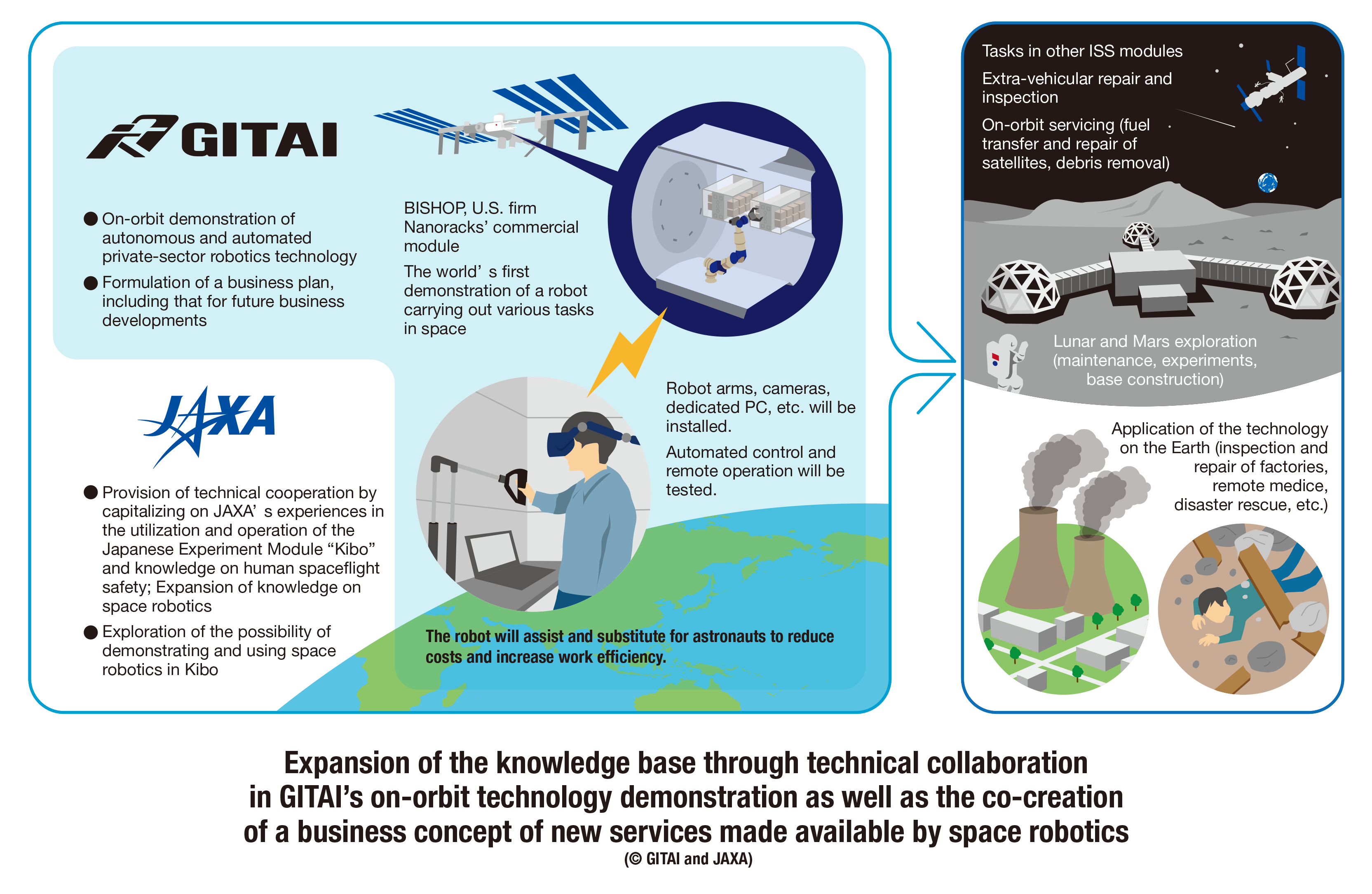 With the aim of achieving the autonomous control and automation of operations, maintenance, scientific experiments, and other specific tasks conducted on the ISS, GITAI built a mock-up of the Japanese Experiment Module "Kibo" and has been implementing tests there to develop and verify its robots. In fiscal 2021, GITAI will also become the world's first private-sector company to perform—in partnership with U.S. firm Nanoracks—a technology demonstration of its robot capable of carrying out versatile tasks (such as operating switches and cables and assembling panels) in the BISHOP Airlock Module*3. Based on technical data collected from this demonstration, the space robotics startup will seek after how its technologies can be utilized in new services for human outpost orbiting the Moon (Gateway), Artemis program, and other space missions as well as for telemedicine, disaster rescue, and other missions on the ground.
 JAXA is currently working to expand the involvement of the private-sector in activities in the Kibo module to promote the sustainable development of low Earth orbit (LEO) missions including the Kibo mission. Robots that will support on-orbit work of astronauts are expected to lead to promoting the private-sector participation in activities and increasing the sophistication of researches in the Kibo module, as well as help enhance efficiency in astronauts' operations. JAXA will leverage its wealth of knowledge accumulated through system operations of the Kibo to provide technical cooperation for validation analysis of the on-orbit technology demonstration conducted by GITAI, while also intending to expand its knowledge on space robotics and advance plans for demonstrating and using services of space robotics in the Kibo.
 Through the business concept co-creation project, GITAI and JAXA will pursue new services that space robotics can offer and develop a new business concept together in order to help increase safety and reduce costs of space activities and meet growing task demands in space.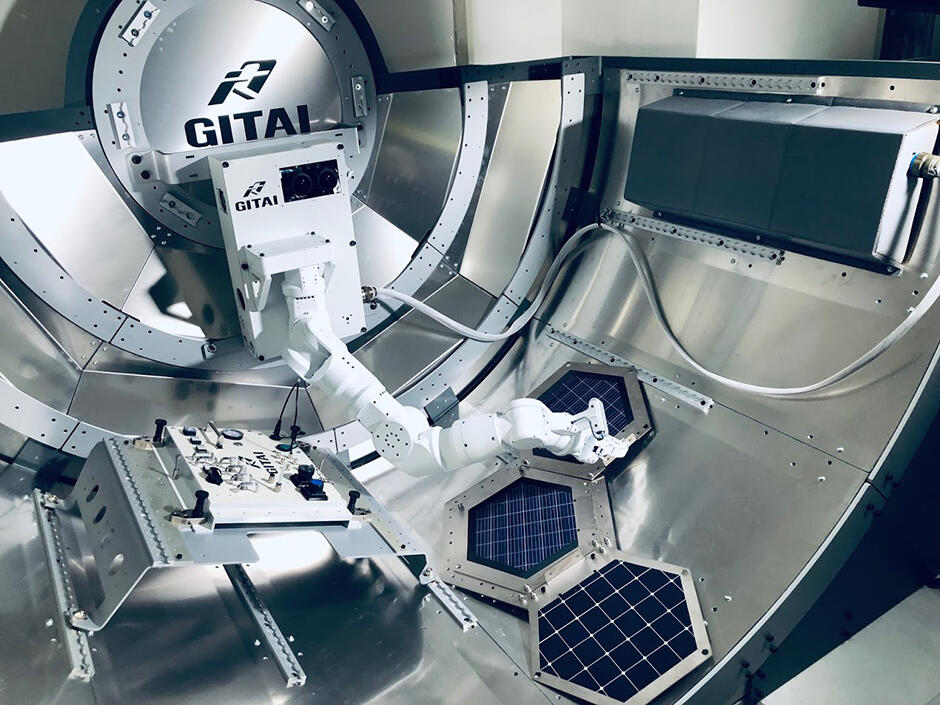 TTechnology demonstration of GITAI's robot in the ISS BISHOP Airlock Module (mock-up) built at
GITAI Tokyo office ©GITAI Japan
*1: A space robotics startup, GITAI identifies tasks that require robotization in various realms of space and develops robots capable of carrying out such tasks. Its goal is to reduce the cost of space labor to a one-hundredth. The company develops its own versatile space robots to promote the robotization of a wide range of tasks in space, with a particular focus on (1) intra- and extra-vehicular activities for space stations; (2) docking for on-orbiting servicing (refueling and repairing of satellites, debris removal); and (3) lunar exploration and lunar base construction.
https://gitai.tech/en/External Link
*2: JAXA Space Innovation through Partnership and Co-creation (J-SPARC) is a program that aims to create new ideas for space related-businesses through collaboration between private companies and JAXA. The two parties will jointly examine the business concept and foster so-called "exit-oriented" technological development and demonstration. JAXA has been implementing this program since May 2018 and is now supporting approximately 20 projects under the program. The program consists of two phases: business concept co-creation and business co-validation. Activities in the former phase include market research and business concept development, and those in the latter phase include joint feasibility study and joint technological development and validation.
http://aerospacebiz.jaxa.jp/solution/j-sparc/ (Japanese Only)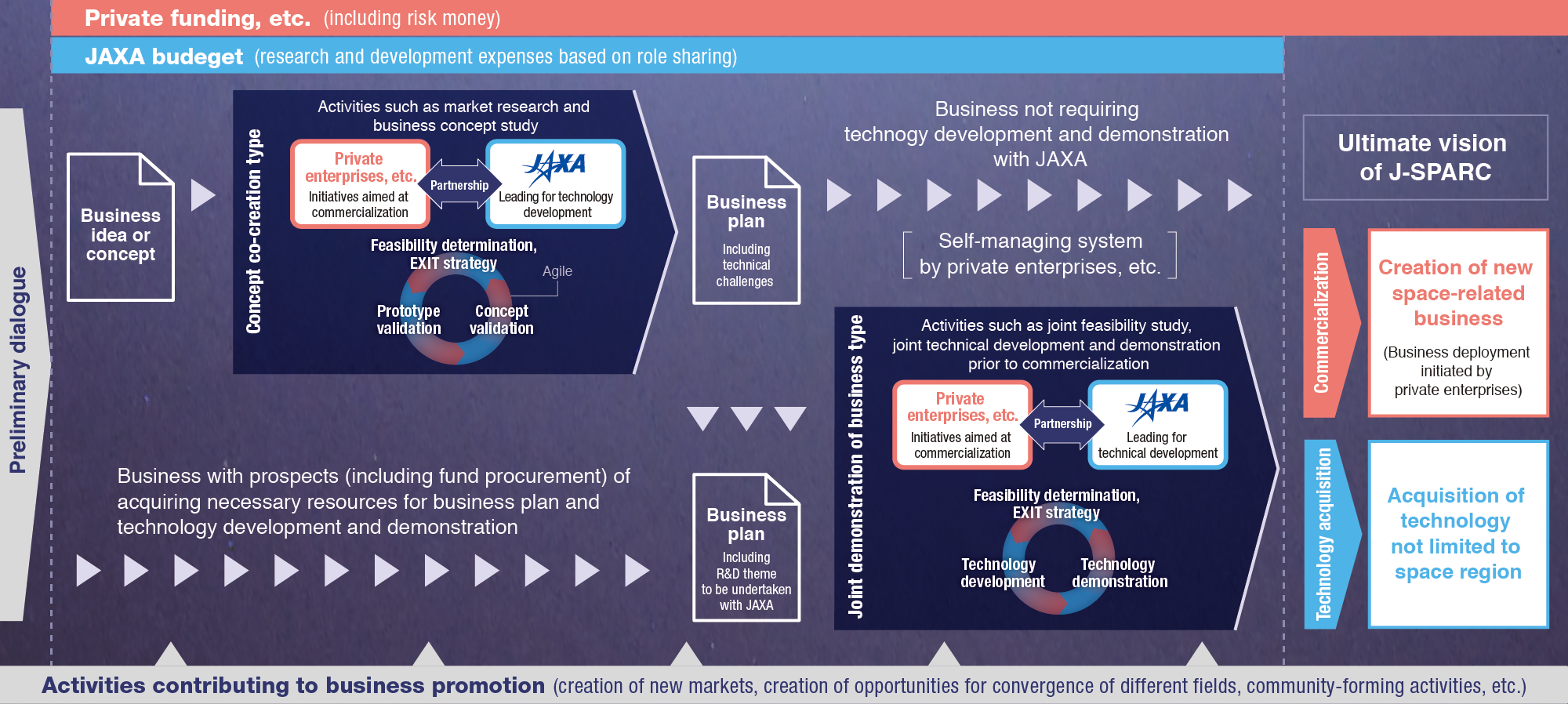 Video of technology demonstration of GITAI's robot carrying out versatile tasks in the ISS BISHOP mock-up on the ground (The actual demonstration in space is planned to be conducted by GITAI and Nanoracks in fiscal 2021.)
Video on the J-SPARC project with GITAI
Comment from Sho Nakanose, CEO of GITAI
I am pleased that the verification and commercialization of space robotics will be promoted further by this co-creation project.
In the space industry, although there have been many private-sector companies working on the issue of space transportation, not so many companies have been challenging the issue of work operations in space.
However, the space industry is now seeing rapidly increasing demand for means of carrying out versatile tasks safely and at low cost.
Our goal is to achieve success in the commercialization of space robotics and thereby reduce the cost of space labor to a one-hundredth. We believe our success will contribute to true space commercialization.
Comment from Kazuyoshi Kawasaki, Director of Management and Integration Department, Human Spaceflight Technology Directorate, JAXA
| | |
| --- | --- |
| | With the aim of accelerating the development of low Earth orbit (LEO) activities including the Kibo mission, JAXA actively invites research institutes and private-sector companies in various fields in Japan to work together to create, promote, and open up the future of space utilization. If this initiative gives birth to the realization of robots capable of assisting work of astronauts in the Kibo, the result will not only be increased efficiency of their work but likely also be various sophisticated researches and expanded space utilization. At the same time, advanced technologies acquired in the course of space exploitation often leads to the creation of innovations on the ground. I hope that this project will create new possibilities for space activities and that technologies emerged from this project, along with JAXA's human spaceflight technologies and its other R&D achievements, will be leveraged extensively for private-sector space commercialization and help expand the scientific knowledge base and create new industries. |