avatarin and JAXA Kick-Off Co-Creation Project to Advance
"Space Avatar" Technology
With Cooperation from The University of Tokyo
avatarin Inc.
Japan Aerospace Exploration Agency (JAXA)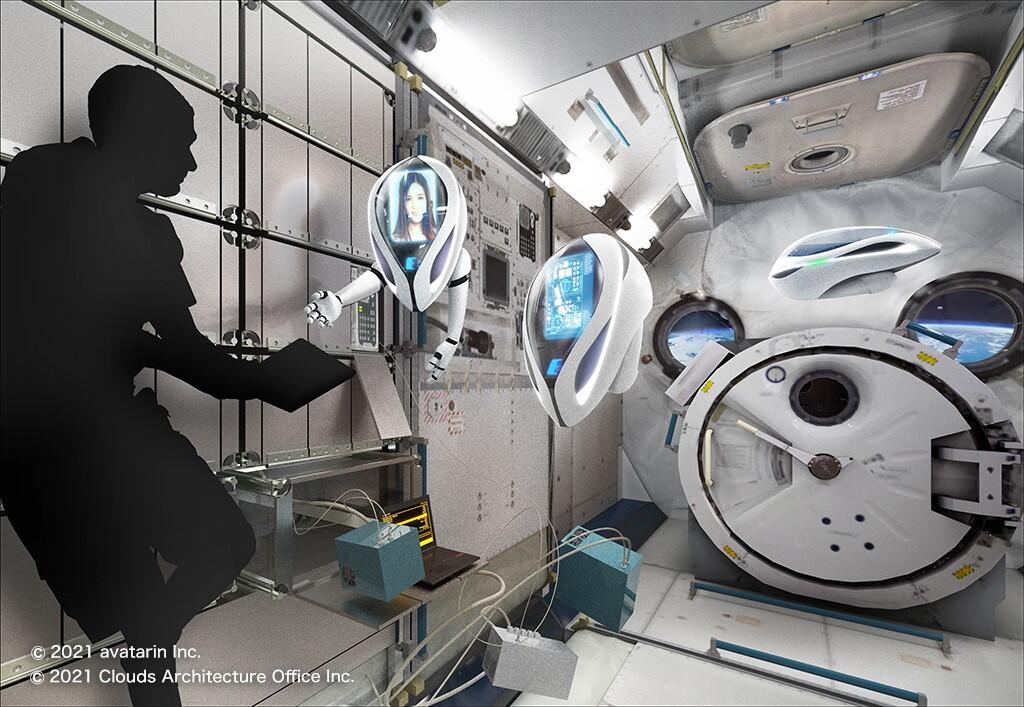 In July 2021, avatarin Inc.*1 (Founder & CEO: FUKABORI Akira), a member of the ANA Group, and Japan Aerospace Exploration Agency (President: YAMAKAWA Hiroshi; hereinafter "JAXA") kicked off a space-based project that leverages robotic avatar technology (hereinafter the "Space Avatar Project"). The joint project is the latest to be selected for the JAXA Space Innovation through Partnership and Co-creation (J-SPARC) initiative*2 and will receive cooperation from The University of Tokyo School of Engineering (President: FUJII Teruo).
Plans for the Space Avatar Project
avatarin and JAXA have collaborated on a previous "space avatar project partnership" that ran from Sep. 2018 to Dec. 2020. In November 2020, as part of this project, avatarin and JAXA organized a technology demonstration session in which a space avatar was deployed inside the Japanese experiment module "KIBO" on the International Space Station (ISS). The avatar was then made available for the general public to operate from a non-laboratory, public setting on Earth. This was the world's first successful event of this kind*3.
Building on the success of the prior project, this new Space Avatar Project partnership (hereinafter the "Partnership") aims to further examine, develop and demonstrate the use of space avatars in the following three business/service areas: remote space travel; remote work assistance; and remote space-themed experiences.
Remote space travel
A service to allow customers on Earth access communication-focused space avatars deployed in the ISS and other outer space settings. To implement this plan, the Partnership will leverage avatar technology to develop a space avatar that will be deployed in the ISS and controlled remotely from Earth with an added capability to move freely within the space facility. This plan will be promoted under the slogan "SPACE FOR ALL―open a new era of commercial space travel," with the hopes of democratizing the commercial space travel era that is rapidly being developed by private space businesses.
Remote work assistance
A service that leverages avatar technology to assist astronauts with performing duties in the ISS and future outer space settings, including the lunar surface. The aim of this service is to increase astronaut work efficiency and facilitate work handover. For this purpose, the Partnership will develop two types of space avatars―one for remote communication and another for tasks that require high-precision avatar hands*5.
Remote Space-themed experiences
A service to be provided by deploying "newme"*6, avatarin's proprietary robotic avatar, to enable remote on-site tours at JAXA's facilities, nurturing interest in space exploration and offering opportunities to learn about related efforts. This service aims to make JAXA's facilities more accessible for space education opportunities to a larger audience. To implement this service plan, the Partnership will run a demonstration program for newme-enabled remote tours in the space museum located at Tanegashima Space Center.
Reponsibilities of individual partners
avatarin Inc.:
- Overall planning and organization development for the Space Avatar Project
- Development of remote communication-focused space avatars and a high-performance space avatar with hands
- Planning for newme-enabled remote on-site tour programs to be run at JAXA facilities.
JAXA:
- Technical cooperation based on its knolwdge and techniques acculated from past involvement in human space exploration missions, particularly through utilization and operation of "KIBO" facilities, development of robotic systems for astronaut assistance, and study on safety of human space missions.
- For the remote work assistance service, consultation for examining mission plans related to astronaut assistance.
- For the remote space-themed experience program, supporting demonstrations for newme-enabled on-site tours at the space museum located at Tanegashima Space Center and other JAXA facilities.
The University of Tokyo School of Engineering:
- Development of a self-position estimation system for remote communication-focused space avatars deployed in the ISS. The development project will be led by Professor YAIRI Takehisa, a specialist in artificial intelligence, from the university's Research Center for Advanced Science and Technology. Professor YAIRI's approach will combine methods for localization of dynamic systems, time-series imagery generative model learning and state estimation based on the laws of motion.
avatarin will advance the Space Avatar Project by utilizing its knowledge and techniques for space avatar deployment that have been cultivated from past technology development efforts, including a demonstration carried out in November 2020 for ground-to-space communication and remote control. With this experience, avatarin will lead the development of space avatar systems that meet requirements of each business/service program. Also, the company will leverage techniques cultivated through this project to step up efforts toward the goal of developing avatar systems that will enable people around the world to enjoy space experiences.
JAXA aims to acquire technical knowledge to increase efficiency in outer space work that is becoming increasingly sophisticated and complicated to strengthen remote, real-time collaboration between ground and space stations by using avatar technology. JAXA will also continue to expand the utilization of KIBO facilities by private businesses and explore possible robotics technologies that can be effectively deployed in future space exploration missions.
The University of Tokyo Shool of Engineering will apply its research in algorithms for localization of dynamic systems and simulataneous localization and mapping using image sequences collected for the space avatar's GN&C (Guidance, Navigation and Contorol) system when deployed in the ISS.
avatarin, JAXA and The University of Tokyo School of Engineering will jointly advance the partnership for the Space Avatar Project and explore opportunities to further scale the initiative. Through this partnership, all three parties aim to expand the utilization of avatars in space and explore avatar applications that can help solve global challenges and issues facing society.
1. avatar (robotic avatar envisioned by avatarin) and "space avatar"
avatarin has developed its real-world avatar robotic technology, aimed at solving societal issues. This technology combines robotics, AI, VR, telecommunications, haptics and other cutting-edge technologies to enable users to instantaneously connect and control a robot in a distant location to convey their intentions, presence, and skills in real-time. avatarin aims to leverage this technology to create a next-generation mobility and human augmentation platform for remote, real-time communication and collaboration.
https://avatarin.com/ External Link
avatarin and its activities with JAXA are featured in a Harvard Business School case study published in June 2021.
https://www.hbs.edu/faculty/Pages/item.aspx?num=60173 External Link
2. JAXA Space Innovation through Partnership and Co-creation initiative aims to catalyze new space-based businesses through open partnerships between JAXA and the private sector. JAXA and partner companies work together for a range of processes from discussing the proposal, sharing a business commitment, examining the business concept, to developing market-oriented technologies and conducting technology demonstrations. The initiative was rolled out in May 2018, and about 20 projects are underway at present.
https://aerospacebiz.jaxa.jp/solution/j-sparc/
3. News release
In the initial technology demonstration for the deployment of space avatar technology, a ground-to-space communication session was organized to provide a unique opportunity for the general public to experience outer space.
https://about.avatarin.com/info-news/news-release/593/ External Link
4. Communication-focused space avatar
Robotic avatar specializing in ground-to-space communication to enable ground operations to better assist astronauts perform tasks, work handover and recess procedures on the ISS, lunar surface, and other outer space settings.
5. High-performance hand-type space avatar
Robotic avatar installed onboard/outboard the ISS and in other outer space settings to serve as a human hand that can be controlled from within the ISS and/or a ground station to assist astronauts with various activities
6. newme
newme is a communication avatar developed by avatarin based on its vast avatar testing experience. Users can access newme to transport their presence and intentions to a remote location and enable them to communicate and interact in a wide variety of situations and applications from a distance.
https://biz.avatarin.com/#anc-newme External Link
newme use-case complication video: https://www.youtube.com/watch?v=1cf0fcDp4qo External Link