Establishment of joint research structures for
airframe noise reduction of medium size passenger aircraft
National Research and Development Agency
Japan Aerospace Exploration Agency (JAXA)

The Japan Aerospace Exploration Agency (JAXA) has set up joint research structures to facilitate the practical development of its airframe noise reduction technology, with an eye towards technology validation using a medium size passenger aircraft*1 with around 200 to 400 seats. JAXA has been conducting a series of research and development activities on airframe noise reduction technology to reduce noise around airports.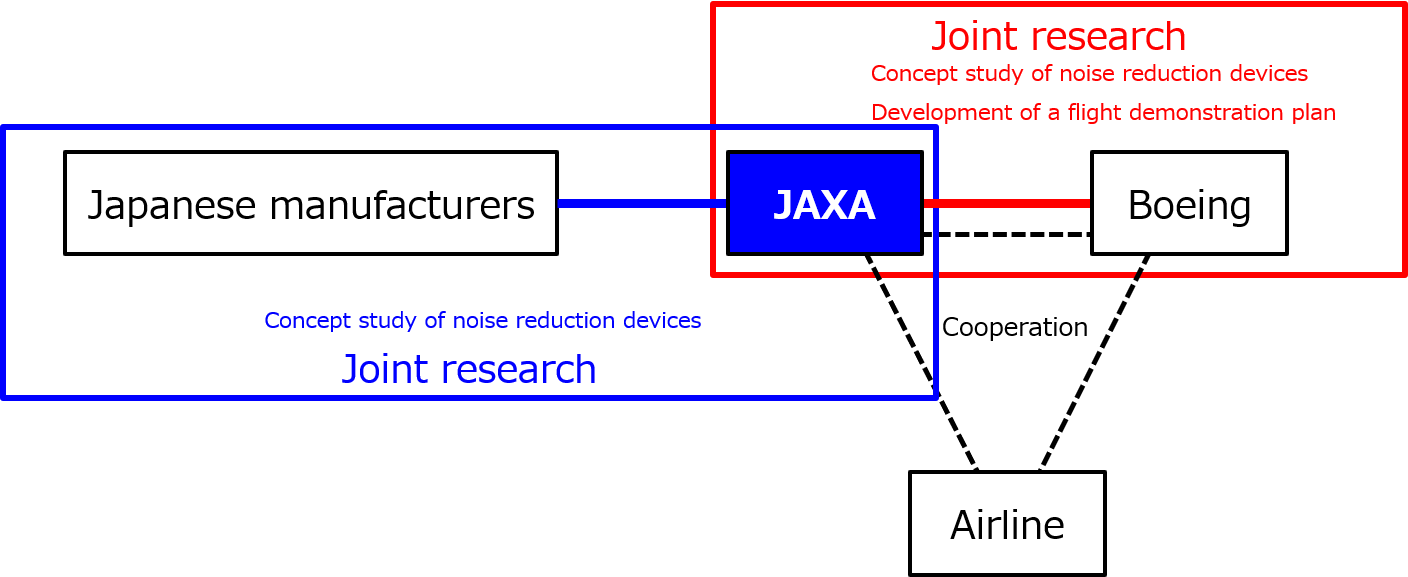 In order to meet future passenger traffic demand, and to strengthen the international competitiveness of the airports, there have been discussions to increase the number of takeoffs and landings at major airports in Japan. An example is the introduction of the new flight route to Tokyo International Airport (Haneda), in which aircraft pass over the central Tokyo area at low altitudes for approach. On the other hand, it also raises concerns about aircraft noise, and public demand for quieter aircraft is growing. The challenge here is to mitigate the noise around airports even with increased air traffic.
The framework aims at phasing up the research and development of airframe noise reduction technology to the next level. Based on the noise reduction design methodologies established through the FQRUOH project*2, JAXA will continue making collaborative efforts with Japanese manufacturers to examine feasible design concepts for noise reduction devices for medium-size passenger aircraft. JAXA will also work with the Boeing Company, which has extensive experience in building passenger aircraft, to develop a plan for validation by a flight test. Thus, the joint research structures will help accelerate the practical development of airframe noise reduction technology.
JAXA plans to identify design concepts for noise reduction devices by March 2022, which will be followed by the development of the devices for a flight test as well as the development of evaluation plans in 2023 or later. JAXA is committed to contributing to reducing noise around airports with its research and development of airframe noise reduction technology.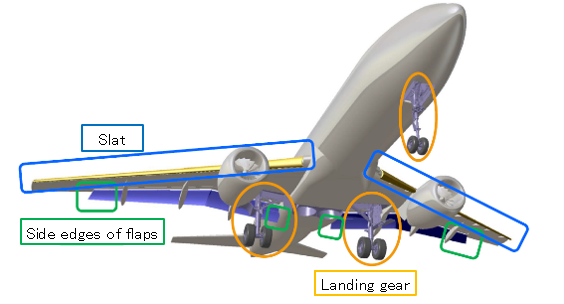 Flaps and slats: High-lift devices that extend from the wings during landing approach to create additional lift forces.
Landing gear: Undercarriage to support aircraft from the impact of touching down.
1: Medium size passenger aircraft
Medium size passenger aircraft are popular among Japanese airliners, and noise reduction technology for them should be effective in reducing overall noise level around airports largely while also enhancing the convenience for airline passengers, which is why this framework is targeting this category.
2: FQUROH (Flight Demonstration of Quiet Technology to Reduce Noise from High-lift Configurations)
FQUROH is a flight demonstration project for airframe noise reduction technology, which JAXA conducted between 2013-2019 in collaboration with Japanese aircraft manufacturers. Aircraft noise during take-off climb has been successfully reduced since the engines became quieter. However, noise reduction on approach is stagnated over the past twenty years. One of the major causes is the airframe noise, which is aerodynamic noise mainly generated from high-lift devices (flaps, slats) and landing gear. To make future aircraft quieter, JAXA has been conducting a series of research and development activities on airframe noise reduction technology, including the FQUROH project.
https://www.aero.jaxa.jp/eng/research/ecat/fquroh/