Sky Frontier Program (Sky Frontier)
Due to its high speed and mobility, air transportation has become an essential means of long-range transport and an indispensable asset in search and rescue. In future, society expects air transportation to become not only more environmentally friendly but also faster and more convenient, usable from any place at any time.

To satisfy these diverse expectations and demands, JAXA's Sky Frontier program is challenging the frontiers of air transportation with researches with a long-term outlook. By striving for higher speeds (through supersonic and hypersonic aircraft), greater use of airspace (through short and vertical takeoff and landing capabilities) and the use of new energy resources (electric propulsion and a shift away from fossil fuels), JAXA is creating innovative aircraft concepts and key enabling technologies to bring about air transport system innovations.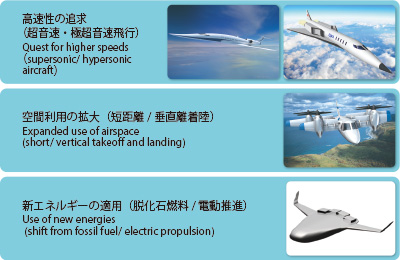 About Sky Frontier Project
Demonstration of the Low Sonic Boom Design Concept with D-SEND
JAXA performed the "Drop test for Simplified Evaluation of Non-symmetrically Distributed sonic boom (D-SEND)" project between JFY2010 and 2015. D-SEND is a project to demonstrate and evaluate low sonic boom design technology to reduce "sonic boom", which is one of the highest priority issues for realizing silent supersonic transport. Our goals were 1) to demonstrate and validate JAXA's "low sonic boom design concept," which JAXA holds a technically superior position in the world, through flight tests, and 2) to establish an aerial sonic boom measurement method that can contribute to the currently ongoing deliberation of international standards for sonic booms.

The D-SEND project has two phases, D-SEND#1 and D-SEND#2. At the D-SEND#2 test held on July 24, 2015 (local time) at the Esrange Space Center in Sweden, we demonstrated the world's first whole-aircraft sonic boom design technology as a result of our analysis of the sonic boom waves measured during the test.

We are currently drawing up a new R&D plan to further tackle technical issues, then our supersonic technology aircraft R&D results to date will be succeeded by the new plan. In addition, we actively promote aircraft development with the industrial sector to resume supersonic passenger aircraft operation, which has been halted since the retirement of the Concord.