Speech Abstracts by Hiroshi Yamakawa, President of JAXA
Date and time: From 1:30 - 2:15 p.m. on July 10 (Fri), 2020
Venue: Online
MC: Akiko Suzuki, Director, Public Affairs Department
Emergency observation for heavy rain hitting Kyushu in July
An extremely heavy rainstorm hit Kyushu over days from July 3, causing major flooding and landslides in many parts of the region and inflicting massive damage on local communities. I would like to extend my deepest condolences to the victims of the disaster.
Japan Aerospace Exploration Agency (JAXA) performed emergency observation for the threatened areas from July 4 to 7 by Advanced Land Observing Satellite (ALOS)-2, in response to a request from the Ministry of Land Infrastructure, Transport and Tourism (MLIT), and provided the data to the MLIT and related disaster management agencies. We also post processed results (as product) on the webpage related to disaster management as well as publishing images showing river flooding and inundation situations on a webpage of the Earth Observation Research Center (EORC).
Right-side image is, an overview of around Kuma-gun of Hitoyoshi City, Kumamoto Prefecture, indicating presumed flooded areas as of July 4 in light blue. You can see the flooded area is stretching about 30 kilometers along the Kuma River and its tributaries.
The left-side image has been enabled by GSMaP. As you can see, a precipitation band is stretching east and west around the seasonal rain front. The area indicated in red in Southern Kyushu recoded an extremely heavy rainfall event of more than 250 mm per day.
JAXA will continue these activities to offer accurate information in a timely manner in the event of climate disaster.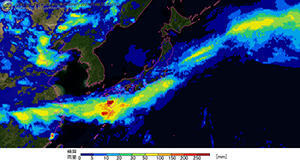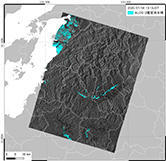 JAXA and ASA Sign Memorandum of Cooperation
ASA is a relatively new agency established in July 2018 to serve as a contact for the country's various organizations involved in international cooperation in the field.
JAXA has been engaged in discussions with ASA since its establishment. Based on this MOC, the two agencies will consider the possibility of collaborations to create many projects, focusing on the five areas of: space application; space technologies; space environment utilization; space science and space exploration; and space education and outreach. In addition, JAXA and ASA are working on coordination towards the recovery of the Hayabusa 2 capsule at Australia in order to complete its sample return mission. We are proceeding in close cooperation to ensure a successful mission while carefully implementing measures against the novel coronavirus outbreak.
We will promote a variety of joint space activities and missions under this MOC, as leading space development partners in the Asia-Pacific region.
Signing of Joint Exploration Declaration of Intent for Lunar Cooperation by MEXT and NASA, and JAXA's Efforts
On July 10 (JT), Government of Japan Minister of Education, Culture, Sports, Science and Technology (MEXT) Koichi Hagiuda and the National Aeronautics and Space Administration (NASA) Administrator Jim Bridenstine signed a Joint Exploration Declaration of Intent for Lunar Cooperation (JEDI) between Japan and the U.S. We recognize that the JEDI represents an intergovernmental intention of cooperation in lunar exploration.
We understand that the purpose of the JEDI is for sharing the objectives of the US Artemis program, and promoting bilateral cooperation in the lunar exploration with recognizing comprehensive benefits on the International Space Station (ISS) and lunar program, as well as developing arrangements to enable Japanese astronauts' opportunities to work on the Gateway and lunar surface.
As a participant in the Artemis program, JAXA has begun to proceed with technical studies on Gateway's habitat function, a cargo transfer spacecraft that delivers supplies, and sustainable lunar surface exploration missions, drawing on Japan's technical insights on manned and unmanned space missions, which have been built from past involvement in ISS and many science exploration efforts.
Japanese astronauts, through their activities on the ISS, have gained a high reputation and trust internationally for exemplary teamwork behaviors and a strong sense of responsibility and competence for fulfilling tasks.
We hope Japanese astronauts will continue to further enhance the previous reputation, achieving missions on the moon to expand new frontiers for the human race, thereby inspiring many young people to develop an inquiring mind and interest in taking up challenges.
In order to step up the lunar exploration efforts going forward, we believe, it is essential to maintain the strong, long-standing Japan-U.S. partnership in the civil space cooperation field, including for the ISS program.
Thus, we will work to expand the partnership with NASA, international collaboration, and cooperation with business and academic sectors, aiming to engage in activities for the development of Japan and the U.S. as well as the entire human kind.
JAXA signs a cooperation agreement with Tsukuba City
The Tsukuba Space Center will soon mark the 50th year of its opening in Tsukuba Science City, a science park development aimed to accommodate and foster high-level education and research activities.
JAXA, recognizing the importance of facilitating closer cooperation and interaction with local communities, has been promoting joint projects with research institutes located in Tsukuba City, such as National Institute of Advanced Industrial Science and Technology (AIST), National Institute for Materials Science (NIMS), and National Institute for Environmental Studies (NIES), while at the same time offering educational support to the region through graduate school partnership with Tsukuba University, among other programs.
On June 25, to increase its local cooperation efforts, JAXA signed a basic agreement for mutual cooperation with Tsukuba City.
Prior to the recent agreement, JAXA and Tsukuba City have worked to forge a friendship through mutual exchange of support activities, such JAXA dispatching instructors to local schools and the city government running street and social media advertising campaigns to promote JAXA's astronauts engaged in flight missions. The new agreement aims to enhance mutual cooperation in a number of selected areas mainly regarding: accessibility to the assets (information, resources, research results, etc.) of each other; promotion of academic studies and science and technology; industrial development; and facilitation of school and social education.
The Tsukuba Space Center has engaged private business company to run its test facilities, starting April this year, expecting to increase usage by external organizations. We are looking to expand the user base, in addition to space-related organizations, to other sectors in the region, thereby contributing to local industrial revitalization.
Based on the cooperative agreement with Tsukuba City, JAXA will aim to build a stronger cooperation with local communities, wishing to help sustainable development of regional society and revitalization of regional economy.
Starting initiatives to create new businesses related to living and healthcare
JAXA is promoting initiatives to develop space-related markets related to food, clothing and housing and create new businesses, anticipating the possibility of humans living in space in the future. Our relevant efforts started from the area of food, where we launched the Japanese Space Food Certification in 2007. More recently, in April 2020, SPACE FOODSPHERE embarked on from JAXA Space Innovation through Partnership and Co-creation (J-SPARC), a public-private, cross-industry research and development business incubation initiative.
The first is progressing on the THINK SPACE LIFE platform, a new J-SPARC project. The plan is based on the concept of studying possible challenges involving living in space with a view to improving living conditions in space and on earth alike. Encompassing a broad range of issues related to living and healthcare, from living space, sleep habit, remote communication, to mental health, motivation control and fitness management, the project will provide incubator functions for product/service planning to development while offering networking platforms to encourage business and other entities to develop inter-enterprise or industry-academia-government collaborations.
The second project is for holding a competition to collect proposals about daily use items to be adopted by the ISS crew. We expect to receive many plans for clothing and personal care items to give greater comfort to astronauts as well as mechanisms and ideas to increase the convenience of future space travelling and living on earth. Received proposals will be shortlisted to undergo fitting and other checks by astronauts, and JAXA will decide on final candidates to be loaded onto the ISS from FY2022 onward.
The government's Basic Plan on Space Policy revised in June includes new items directed at solving global-scale challenges, such as achievements of the SDGs, and spurring new entries into the space industry from other sectors. This reflects increasing expectations for Japan's space development endeavors to lead cross-sectoral innovation activities and spark non-space technological innovations that can drive the country's economic growth. In order to meet these expectations, JAXA will work on the newly launched projects in effective combination with existing joint research activities and space demonstration programs, aiming to support business and social implementation of projects for in-space and on-earth settings.
RAPIS-1 ends its operation
RAPIS-1 was incorporated into Innovative Satellite Technology Demonstration-1, a program designed to offer opportunities for companies, universities and other organizations to perform a demonstration in an in-orbit setting for parts, components, microsatellites and CubeSats they have developed. The demonstration satellite was equipped with seven parts and components representing themes selected through an open call, each of which produced superior results.
Major examples are: NBFPGA (NanoBridge-based Field Programmable Gate Array, NEC Corporation), currently under consideration for commercialization; DLAS (Deep Learning Attitude Sensor, Tokyo Institute of Technology), for which a university venture has been launched; and Fireant (Miniature Spaceborne GNSS Receiver, Chubu University), which has registered a steady sales performance.
Being the first mission of Innovative Satellite Technology Demonstration program, RAPIS-1 has made significant pioneering achievements in establishing a range of processes to manage demonstration platform services aimed at industrial development, from selection of themes to technical support and provision of opportunities.
Taking this opportunity, I would like to express my sincerest appreciation for the cooperation and support extended by many individuals and organizations to develop and operate RAPIS-1. The Innovative Satellite Technology Demonstration program is advancing steadily, with the second mission in the process of preparation and the third, for which demonstration themes were selected in May this year. We will continue with our efforts to encourage space use and support the development of Japan's space industry.