Speech Abstracts by Hiroshi Yamakawa, President of JAXA
Date and time: From 1:30 - 2:15 p.m. on September 11 (Fri), 2020
Venue: Online
MC: Akiko Suzuki, Director, Public Affairs Department
JAXA' Earth observation data used for disaster management
Early this month, Typhoon Haishen struck Kyushu, causing grave damage in the region and surrounding areas. On behalf of the Japan Aerospace Exploration Agency (JAXA), I would like to extend my deepest condolences to people affected by the disaster.
Haishen had approached from south growing into an unprecedentedly powerful tropical storm, and the Japan Meteorological Agency (JMA) alerted local residents to take utmost precautions against the threat. JAXA conducted a series of emergency observations by ALOS-2 on September 6 and 7, in response to a request form the Ministry of Land, Infrastructure, Transport and Tourism (MLIT). Using observation images, we extrapolated data on damage from flooding and other disasters to provide to the MLIT, while specifying locations likely to suffer flood disaster to post on our disaster management webpage.
We also processed data from the Duel-frequency Precipitation Radar (DPR) onboard the Global Precipitation Measurement (GPM) core observatory to visualize the precipitation situation induced by the typhoon. Figure 1 gives an overview of Haishen located east of Okinawa Island around 18:00 on September 5 (JST), and Figure 2 represents the related precipitation distribution. This chart illustrates intense precipitation areas (marked in red) distributed in a concentric pattern around eyewall clouds that surround the cloud-free eye. The DPR sensor has also provided 3D structure data indicating that the responsible rain clouds reached as high as 14 km. Our DPR data is used by the JMA for the purpose of meteorological forecasting. Particularly, 3D precipitation data is appreciated for improving the forecast accuracy.
JAXA will continue working to publish accurate information that can help prevent disaster and reduce damage in a timely manner while supporting disaster-related government agencies with promoting disaster management activities.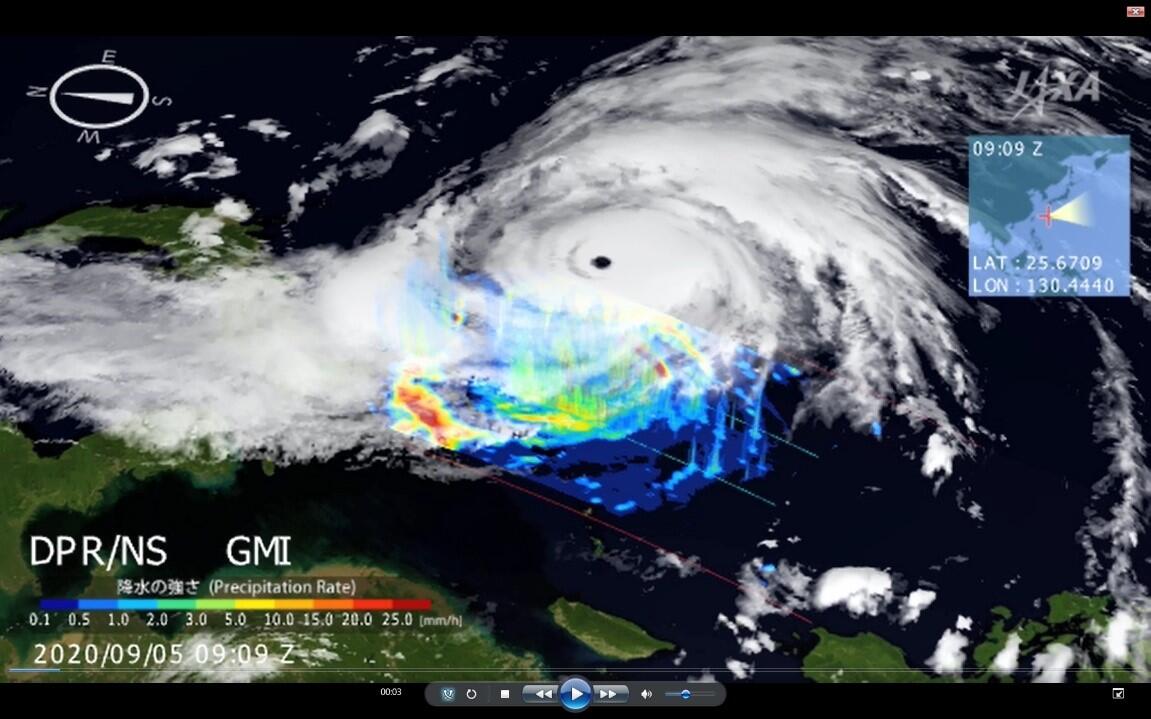 Fig. 1 3D structure of precipitation induced by Typhoon Haishen (east of Okinawa Island, 18:00 on September 5, JST)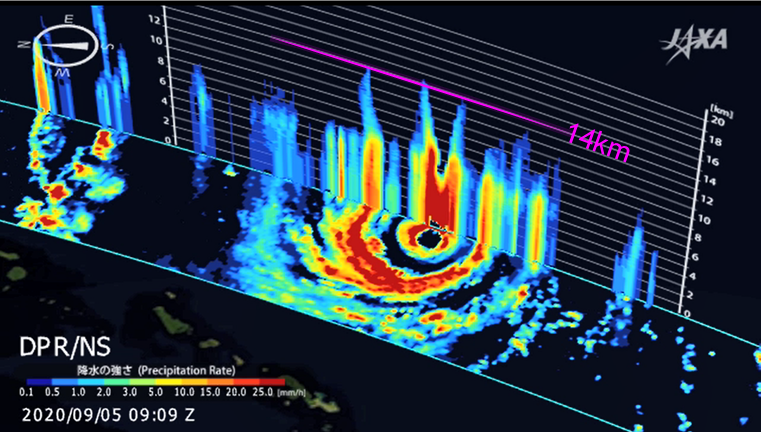 Fig. 2 DPR-enabled illustration of intense precipitation areas distributed around the typhoon eye in a concentric fashion
JAXA's MMX project in progress
JAXA is promoting the Martian Moons eXploration (MMX) project with the aim of clarifying the origin of the Martian moons and the evolutionary process of the Martian sphere. MMX is an internationally high-profile sample-return mission that aims to conduct scientific observations of the Martian moons, Phobos and Deimos, as well as Mars, in addition to landing on Phobos to collect "sand" from its surface to return to Earth. JAXA officially raised the MMX mission status to the project phase in February 2020 and has decided to target Phobos for exploration in light of planetary science and technical feasibility. The MMX project has entered the basic design phase looking at the scheduled launch in JFY 2024
MMX is an international joint mission that involves extensive cooperation networks with leading space agencies in the US and Europe for onboard equipment provision and other purposes.
As we announced on September 10, JAXA has decided to select onboard 8K and 4K Super Hi-Vision cameras on MMX in cooperation with NHK (Japan Broadcasting Corporation).
This onboard Super Hi-Vision Camera that is capable of filming 4K and 8K images in space will be jointly developed by NHK and JAXA. This would be the first attempt in history that images of Mars and its moons are taken in proximity.
Actual flight data of the MMX spacecraft can be combined with images taken by the Super High-Vision Camera to enable a fine-quality recreation of the spacecraft exploring around the Martian sphere
Such ultra high definition images of a recreation of exploration will help operations of the spacecraft while hoping to deliver awe-inspiring reports from the new Martian sphere exploration mission to many people around the world.
Mars exploration missions have been drawing attention globally, as UAE, the US and China launched spacecraft for the purpose respectively this year. JAXA will steadily continue with its MMX development endeavors to successfully fulfill a sample return mission from the Martian moon succeeding the technologies built for Hayabusa and Hayabusa-2 projects.
H-II transfer vehicle KOUNOTORI mission completed
The H-II transfer vehicle KOUNOTORI mission has completed. On May 21, 2020 (JST), the mission's last spacecraft KOUNOTORI9 was launched aboard H-IIB Vehicle No.9 from the JAXA Tanegashima Space Center, and was docked to the International Space Station (ISS) on May 25 to transfer experiment equipment and resupplies necessary for ISS operations and the crew's activities, including fresh food, one of the most appreciated items. Then, loaded with waste materials from the ISS, KOUNOTORI9 departed from the station on August 19, and re-entered the atmosphere on August 20 to finish its mission. I watched the successful completion of its final task from the Tsukuba Space Center.
This success was attributable to careful and vigorous preparation efforts made by the team and many other people working together despite difficulties caused by COVID-19, and kind understanding and support offered by local residents with respect to the launch. Taking this opportunity, I would like to express my sincere appreciation for cooperation provided by all local citizens and organizations concerned.
Over the past 11 years since the mission's first launch of the technical demonstration vehicle on September 11, 2009, the nine KOUNOTORI transfer vehicles have been transporting not only Japanese cargo but also those of other ISS international partners. Thus, being the only spacecraft capable of transporting large-sized experiment racks to the station, the KOUNOTORI has played an important and indispensable role in ensuring operations and utilization of the facilities. In particular, the last four vehicles (from 6 to 9) continuously undertook delivery of new batteries to replace the old ones that had been used beyond their design life. Through this, we believe we have made a significant contribution to the future stable operation of the space station, and improved Japan's presence in the world's space development sector.
JAXA has acquired various new technologies and knowledge through the development, launch and operations of the KOUNOTORI. Among major examples is the rendezvous and capture technology (for capturing and maneuvering the spacecraft using the ISS's robot arms), which was developed to meet strict safety standards imposed on spacecraft flying and approaching manned space facilities. This technology was developed based on the rendezvous and docking process established through the demonstration of the engineering test satellite VII (KIKU-7, Orihime/Hikoboshi) in 1997. Recognized for its effective performance on the KOUNOTORI, the rendezvous and capture technology was adopted by the US Dragon and Cygnus resupply service vehicles, and became a practically international standard mechanism. We have achieved many other results through technical demonstration opportunities afforded by the KOUNOTORI operations, including the successful demonstration of the Small Re-entry Capsule (HSRC) on KOUNOTORI7 and Wireless LAN Demonstration (WLD) with KOUNOTORI9, aimed at automated docking process. We believe that these achievements will help facilitate progress of future manned space activities, in addition to fulfilling Japan's responsibilities as a cargo transporter to the ISS.
The H-IIB launch vehicle, boasting a 100% success rate, played a major role in delivering the successful KOUNOTORI mission. H-IIA and H-IIB vehicles have succeeded in launching 45 spaceships successively over the past 15 years, stably continuing to send satellites into orbit.
JAXA is developing a new resupply service vehicle, the HTV-X, a successor to the KOUNOTORI. Based on our accumulated technologies and knowledge, we will pursue the relevant development endeavor to improve transport capability and operability and ensure applicability to the manned cislunar station, Gateway.
Finally, we would like to express our heartfelt gratitude to all the organizations and individuals in and outside of Japan who have provided us with precious support and assistance to the KOUNOTORI mission.
JAXA astronaut NOGUCHI Soichi preparing for mission
JAXA astronaut Noguchi Soichi is scheduled to board the first operational Crew Dragon developed by Space-X to reach the ISS, where he will serve an around six month-long expedition. To prepare for the mission, he and three other crew members are currently engaged in various training programs as planned, such as for simulation using the Crew Dragon mockup and extravehicular activity practice in a giant water pool. Here, I would like to share NOGUCHI's spirited comments on the planned mission: "I am confident as I have gone through substantial training to steadily prepare myself for the mission. I will continue with rigorous training, maintaining a sense of responsibility, to be able to bring myself into perfect conditions on the launch day."
According to NASA and Space X, the launch date is provisionally scheduled to be on or after October 23. We will provide finalized information when it is available.
H3 launch vehicle project rescheduled
JAXA has decided to reschedule its plan for developing the H3 launch vehicle, which was started in JFY 2014 and aimed to launch the first test flight in JFY 2020.
The development project has progressed to currently work on system-level integration and verification of developed subsystems, including tests for combining an actual flight vehicle tank and a second stage engine.
The H3 employs a new LE-9 first-stage engine, an ultra-high thrust expander bleed cycle engine, which is under development. For the LE-9 engine development, a number of combustion tests have been performed with actual flight vehicle equivalents, including a series of testing to establish the engine design. In May 2020 when conducting this test, we identified two major problems: fatigue fracture surface on turbo pump turbines for feeding propellent to the engine; and openings in combustion chamber walls.
Conducting investigations to determine the cause of these problems and examining possible countermeasures, we concluded that the turbo pump turbine should be redesigned. And in order to secure sufficient time for duly completing appropriate measures, we have decided to reschedule the development plan. Specifically, the first test flight launch will be postponed from JFY 2020 to JFY2021 and the second test flight launch from JFY 2021 to JFY2022.
This decision is based on our conclusion that all possible measures must be taken to solve technical challenges involved in the LE-9 engine for the H3, Japan's new mainstay launch vehicle following the H-IIA and H-IIB. According to the new schedule, we will exert all-out efforts to more fully ensure successful launch operations of the H3. We appreciate your continued understanding and support.