Speech Abstracts by Hiroshi Yamakawa, President of JAXA
Date and time: From 1:30 - 2:15 p.m. on January 21 (Fri), 2022
Venue: Online
MC: Kaori Sasaki, Director, Public Affairs Department
JAXA sends the new year's greetings to all.
Last year was called "the first year of space travel," and I feel that it was a milestone year in the aerospace field from a global perspective, as private companies became more active in the aerospace field in addition to the projects of the national government and public organizations.
So I would like to list some of the major initiatives that JAXA is planning for 2022.
In the field of manned space activities, the following are planned: Recruitment and selection of new astronaut candidates; Astronaut WAKATA Koichi's fifth space flight, marking the highest number of flights as a Japanese astronaut; and his International Space Station (ISS) Expedition.
While utilizing Japan's strengths that have been built through the Japanese astronauts, the operation of the Japanese Experiment Module "Kibo," and manned space activities on the ISS, we will steadily promote research and development with the aim of contributing to manned space flight technology, etc., in which Japan's superiority and ripple effects are greatly expected.
In addition, NASA Administrator Bill Nelson expressed the U.S. administration's commitment on January 1 (Japan Standard Time) to extend ISS operations through 2030 and work with international partners to enable continuation of the groundbreaking research in orbit. JAXA is currently conducting a technical evaluation of the extension of ISS operation in cooperation with our international partners, and we will continue to provide necessary support for the government's study.
Last year, there were many natural disasters such as torrential rains, and pumice drifts caused by an underwater volcanic eruption. We hope to continue contributing to disaster prevention and mitigation using satellite data this year as well. Later today, I would like to introduce the observation cooperation by Advanced Land Observing Satellite "Daichi-2" and others regarding the underwater volcanic eruption off the coast of Tonga that occurred on January 15.
In the field of space exploration, we released a catalog of samples from asteroid Ryugu on our website last week (January 13) to be used for international research proposals.
Two CubSats, OMOTENASHI and EQUULEUS, are currently scheduled to be launched in March or later aboard the U.S. Artemis I. The mission staff are currently preparing for the launch and operations, including rehearsals.
We are developing "SLIM" (Small Lander for Investigating Moon) and "XRISM" (X-Ray Imaging and Spectroscopy Mission) to be launched in the next fiscal year. As mentioned in our monthly regular press conference last December, we are also planning to launch the "Innovative Satellite Technology Demonstration-3" by the sixth Epsilon Launch Vehicle (Epsilon-6).
As a core implementation organization that provides technical support for the entire governmental aerospace activities, we would like to remind ourselves once again of the roles and expectations that JAXA is expected to meet, and ensure that we will achieve results.
Debriefing on Astronaut Hoshide's Mission
Astronaut Hoshide Akihiko, who has been undergoing rehabilitation and other activities in the U.S. since his return to Earth on November 9 last year, will temporarily return to Japan. We are planning to hold a debriefing session on February 19 on the long-duration stay mission as a 65th and 66th expedition crew member on the ISS.
This debriefing session will be held online composed of two parts, one for elementary and junior high school students and the other for high school students and older. In addition to the debriefing, a virtual exhibition on the mission details, the Japanese Experiment Module "Kibo," and international space exploration is scheduled to be opened for one month before and after the debriefing. In addition, the International Space Station (ISS) and Kibo Utilization Symposium 2022 will be held in a series of four sessions from January 19 to mid-February.
We hope that many of you will participate in the event to gain further understanding about and provide support for JAXA's efforts in Human Spaceflight Technology.

Next, regarding the recruitment of astronaut candidates for a new era, we started accepting applications on December 20 last year, and the deadline for applications is noon on March 4 (Fri.). The specific number of applicants and other details will be announced in a separate interim report around mid-February.
I have heard that there is a lot of interest from women. We hope that many women will apply on this occasion.
As a final note on this matter, we are planning a second online event on astronaut recruitment on February 4 (Fri.) at 7:00 p.m. Please tune in.
Cooperation in Observing Undersea Volcanic Eruption off Tonga
On January 15, a large-scale volcanic eruption occurred off the coast of Tonga. I would like to express my deepest sympathy to the victims of the eruption in Tonga and other neighboring countries, as well as to the victims of the tsunami in Japan caused by the eruption.
At our monthly regular press conference in December last year, we introduced JAXA's satellite observation of the pumice stone from Fukutoku-Okanoba. This time too, we are also analyzing satellite observation data from Advanced Land Observing Satellite-2 "DAICHI-2" (ALOS-2) and Global Change Observation Mission - Climate "SHIKISAI" on the volcanic eruption off Tonga. Since the eruption took place overseas, JAXA is providing its support through "Sentinel Asia," an international framework for disaster prevention cooperation using space technology, for which JAXA serves as the secretariat. We are conducting emergency observation by "DAICHI-2" and providing observation information in cooperation with the Pacific Community, a local member of "Sentinel Asia."
Figure 1 is side-by-side images of "DAICHI-2" observations around the volcano on January 17, two days after the eruption, and on December 14, 2019, before the eruption. You can see that the eruption caused most of the land around the crater in the center of the image to disappear.
Figure 2 is optical satellite images from Europe and France released by the International Charter "Space and Major Disasters," in which JAXA also participates. The images compare the appearance of the area on December 8, 2021, before the eruption, and January 16, 2022, after the eruption, which also shows the disappearance of most of the volcanic islands. Optical satellites have the advantage of good visibility. However, as seen in the optical satellite image of January 16, the area of the island shown by the dotted line on the left side of the image is obscured by clouds. In the event of a disaster, it is essential to obtain information quickly and reliably. Since "DAICHI-2" is a radar satellite that is unaffected by clouds and smoke fumes from a volcano crater and can observe at night, it can stably check a disaster situation. We believe that the use of both of these two types of satellite images, radar and optical, will help us understand local situations on the ground. We will also coordinate with local disaster management agencies to help them assess the damage of disaster through the emergency observation by "DAICHI-2" and image provision.
* (The following are displayed)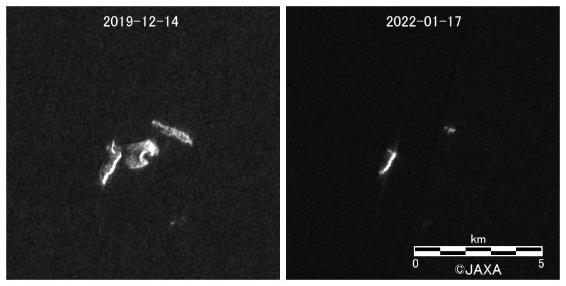 Figure 1: Changes in Hunga Tonga–Hunga Haʻapai volcano observed by DAICHI-2
(Left) Image on December 14, 2019, (Right) Image on January 17, 2022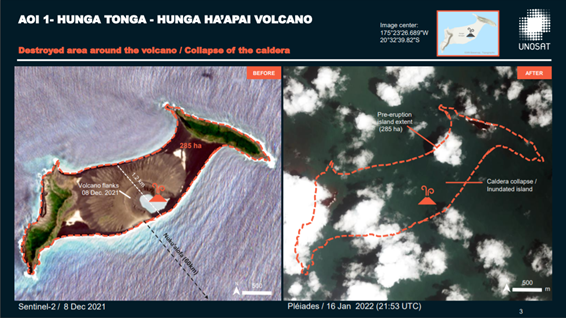 Figure 2: Optical satellite images provided by the International Charter "Space and Major Disasters
(Left) Image on December 8, 2021, Sentinel-2 (10m resolution)
(Right) Image on January 16, 2022, Pléiades (50cm resolution)
Copyright: Contains modified Copernicus Sentinel data (2021)
Includes Pleiades material © CNES (2022), Distribution Airbus DS.
Map produced by UNITAR / UNOSAT
Test Flight No. 1 (TF1) of the H3 Launch Vehicle
JAXA announces that the launch of the Test Flight No.1 (TF1) of the H3 Launch Vehicle currently under development scheduled for the fiscal year 2021 will be postponed.
We are developing a new LE-9 engine as the first stage engine of the H3 Launch Vehicle. In May 2020, during a series of tests to finalize the engine's design, a fatigue crack was found in the turbopump that feeds propellant into the engine, and holes were found on the wall of a combustion chamber.
Based on the revised development plan, we have redesigned the turbopump and conducted new tests, etc., to directly acquire blade vibration data, and have achieved a certain level of technical prospect on the technical issues identified in May 2020.
On the other hand, the vibration data of the turbopump blades showed that there are other issues that need to be taken into consideration. Because we judged it necessary to finalize the design after taking certain measures for the issues, we have decided to postpone the Test Flight No.1 of the H3 Launch Vehicle, which was scheduled for launch in fiscal year 2021.
As this is the second time we have had to change the launch date, we take it very seriously that we will not be able to conduct the launch as planned. JAXA believes that this is a necessary measure to ensure the launch of the Test Flight No.1 of the H3 Launch Vehicle. All relevant parties will work together to promote the remaining development.
Your continued understanding on this matter and support are much appreciated. Thank you very much.