Really Circling the World
The first launch of the L(Lambda)-4S Rocket in September of 1966 was a failure. Following that, the Lambda plan would go on to fail four consecutive times. The media reported widely on the repeated failures, and the public strongly criticized the program.
In the midst of such adversity, the launch team made their fifth attempt. At 1:25 p.m. on February 11, 1970, L-4S Rocket No. 5 was launched. The rocket flew successfully, and launched the satellite safely into orbit, finally giving birth to Japan's first satellite. The satellite was named OHSUMI because of its connection to the launch site on the Ohsumi Peninsula.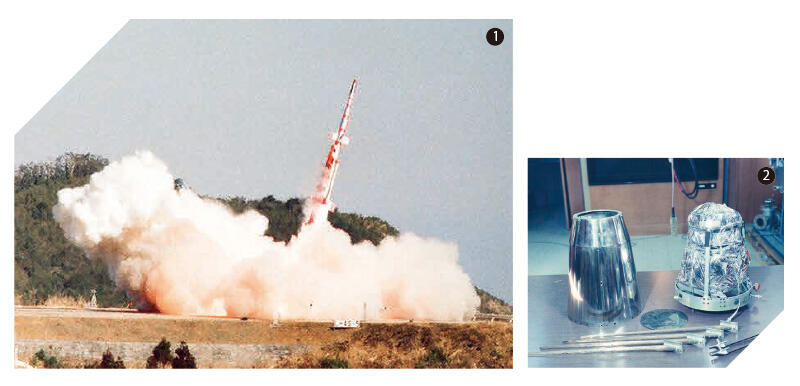 After the rocket left sight, the tension remained at the launch site. The experiment could not be deemed a success until it was confirmed that OHSUMI had circled Earth once and returned over Japanese skies. The telemeter team, of which Mr. INOUE was a member, was receiving the information transmitted from the rocket and satellite for that purpose. Mr. INOUE was in charge of monitoring the received signals and reporting hourly on the flight status of the rocket by dispatch phone. It was an important role that carried the responsibility of confirming the success or failure of the project.
Each successive tracking station of NASA, which was cooperating with tracking the satellite, reported on receiving the signal after launch─Guam, Hawaii, Quito (Ecuador), Santiago (Chile), Johannesburg (South Africa). Finally, at the Uchinoura Space Center in Japan, at 3:56:10 p.m. approximately two and a half hours after the launch, OHSUMI's signal was successfully received.
"The signal beam from OHSUMI arrived two and a half minutes later than predicted, coming from the direction of the western mountains. When the tracking antenna first received the radio wave, the 18 meter antenna was also immediately able to pick up the signal. The signal lasted approximately 10 minutes, but the equipment loaded onto the satellite was working properly. At that moment, I realized that the satellite had really circled the world," says Mr. INOUE.
"All the members of the experiment team felt instantly relieved, and leapt from the lowest depths of worry to the highest heights of joy. As for myself, I felt a wave of happiness gradually come over me. Professor NOMURA had been extremely restless since the launch, waiting for this moment in a corner of the telemeter center. I can still remember shaking hands with him and congratulating each other."
The Professor NOMURA that he refers to is NOMURA Tamiya, who was the head of experiments for L-4S-5. He supported the electricity department during the time when Japan's rockets were growing in size from the Pencil rocket to the L-4S rocket, and would go on to be instrumental figure in the establishment of the Institute of Space and Astronautical Science.