High Capacity and Speed Transmission for Observation Data
Optical Communication Technology Bridges 36,000km Distance
The Laser Utilizing Communication System (LUCAS) is equipped with the technology to relay data such as images taken by Earth observation satellites orbiting the Earth at an altitude of about 1,000km to a ground station through an optical data relay satellite located about 36,000km above the Earth's surface. LUCAS consists of the laser-communication terminals mounted on both satellites and two ground stations to receive the data on the Earth. The optical data relay satellite has a "field of view" about four times wider than that of Earth observation satellites (see the figure below).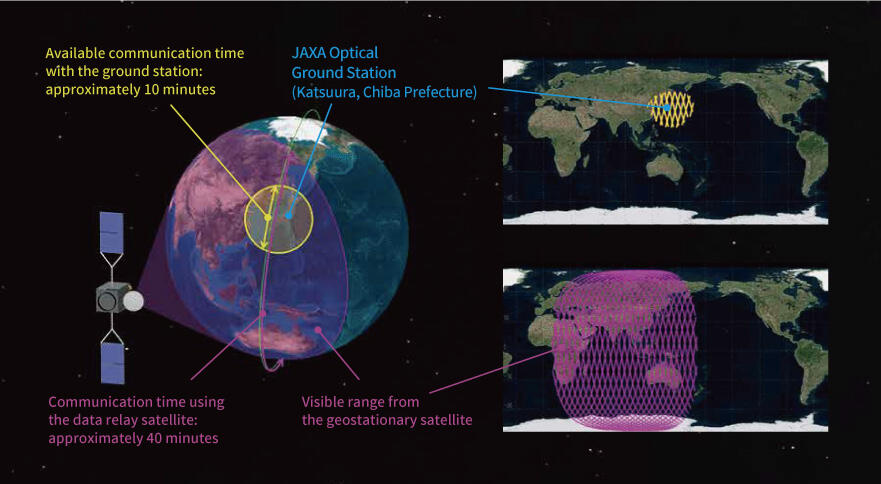 This allows a larger amount of data to be delivered to the Earth closer to real time, therefore we will be able to contribute to emergency observations during disasters. Mission manager YAMAKAWA Shiro noted that some unpredictable events had occurred during the development of LUCAS.
"For example, as we were developing an optical fiber amplifier to increase the communication speed, the unexplained phenomenon of a drop in output power happened. As the development deadline was approaching, we had to solve this problem through concerted efforts, not only within JAXA but also experts and engineers of the manufacturer in charge of development."
The optical data relay satellite was successfully launched in November 2020 ahead of the Earth observation satellites. A test was conducted to confirm that an optical link was established using an optical ground station which is regard as the laser-communication terminal on an Earth observation satellite.
"When the status showed that a successful communication link had been established, I was deeply moved, looking back on the short and long development period of 5 years. It had been over 15 years since the world's first successful bi-directional optical inter-satellite communication with the test satellite "KIRARI" in 2005. This was the moment when the optical communication separated by about 36,000km was 'resumed'."
The Earth observation satellite, ALOS-3 (Advanced Land Observing Satellite-3), which will make the first use of LUCAS, is scheduled to be launched in FY2021. Finally, the time will come. JAXA will aim to establish a communication link between ALOS-3 and the optical data relay satellite.
"LUCAS will be used with ALOS-4, the satellite to be launched after ALOS-3, and is also expected to be used on the International Space Station (ISS) in future. The project team has completed production of the laser-communication terminal to be installed in ALOS-4 and is now engaged in the final test. We will continue working together as a team for development."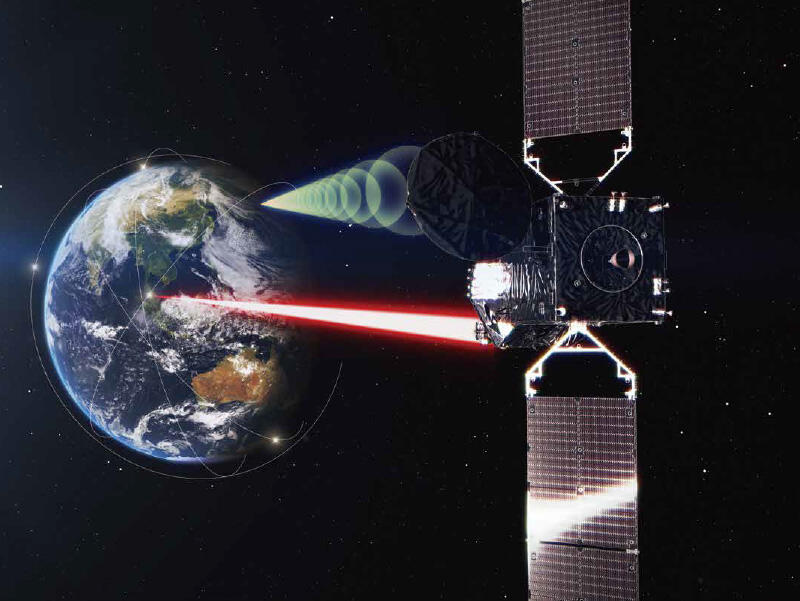 Profile
YAMAKAWA Shiro

Mission Manager
JDRS Project Team
Space Technology Directorate I
All the images are copyrighted ©JAXA unless otherwise noticed.