Research and Development Directorate
First endeavor in Japan
Space Lidar Opens New Applications for Earth Observation
The Research and Development Directorate is conducting research on "lidar observation" technology for new applications in Earth observation. Research leader IMAI Tadashi explains the characteristics of this technology.
"Lidar is a radar that uses light. Lidar is a light-based radar that can measure the distance to a target with high accuracy by emitting light and receiving the reflection from the target. It allows us to determine the height of forests and the exact height of the ground, which has been previously difficult to observe."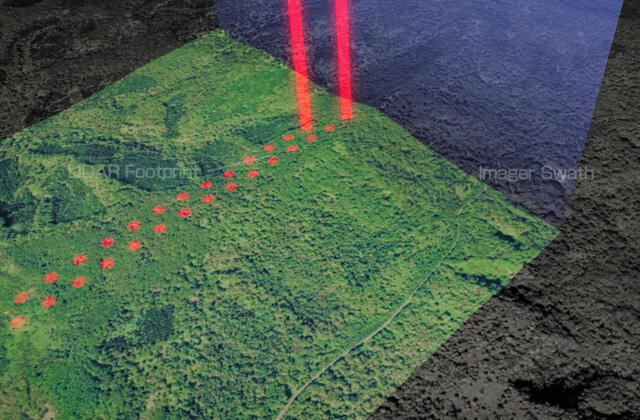 Forests absorb CO2 by photosynthesis and mitigate climate change, but the exact amount of CO2 absorbed is unknown. If the height of a forest can be determined by lidar observation, the volume of the forest can be highly accurately measured by multiplying the height by the forest area and, if the change in volume over time can be ascertained, the amount of CO2 absorption can be calculated.
"Furthermore, lidar observation can provide the exact height of the ground. We believe that this information can be applied to three-dimensional maps, which can contribute to the planning of construction work and improving hazard maps."
To demonstrate this LIDAR observation technology in space, research to demonstrate Japan's first Earth observation LIDAR, which is called MOLI (Multi-footprint Observation Lidar and Imager), on the International Space Station (ISS) is conducted. The MOLI will carry an imager (a camera) along with the lidar. The imager will take "pictures" of the ground and complement the LIDAR observation data, making it easier to use the LIDAR observation data.
The new space applications that lidar observations will open up deserve attention.

Profile
IMAI Tadashi

Sensor System Research Group
Research and Development Directorate
All the images are copyrighted ©JAXA unless otherwise noticed.
Home

>

First endeavor in Japan Space Lidar Opens New Applications for Earth Observation