Space Technology Directorate I
Observations of greenhouse gases from space and the sky
The GOBLEU Project
The GOBLEU (Greenhouse gas Observations of Biospheric and Local Emissions from the Upper sky) Project is a monitoring project to monitor Japan's subnational climate mitigation progress by applying the technologies of the Greenhouse Gases Observing SATellite "IBUKI" (GOSAT) to make observations of urban greenhouse gases (carbon dioxide), air quality (nitrogen dioxide) and solar induced chlorophyl fluorescence (SIF) from the windows of passenger airplanes. By combining data from space and the sky it seeks to make visible the emissions of greenhouse gases from individual source sectors, such as transportation and industry.
As SUTO Hiroshi, Associate Senior Researcher at JAXA explains: "As IBUKI makes its observations from space, it is rather difficult to capture the individual greenhouse gas emission sources in urban areas. But by combining the IBUKI data with the data obtained from passenger airplanes, we are aiming to ascertain more accurate emission estimates from individual source sectors. If we can derive measures to reduce greenhouse gases from this data, we hope that it will tie in with the promotion of effective global warming countermeasures."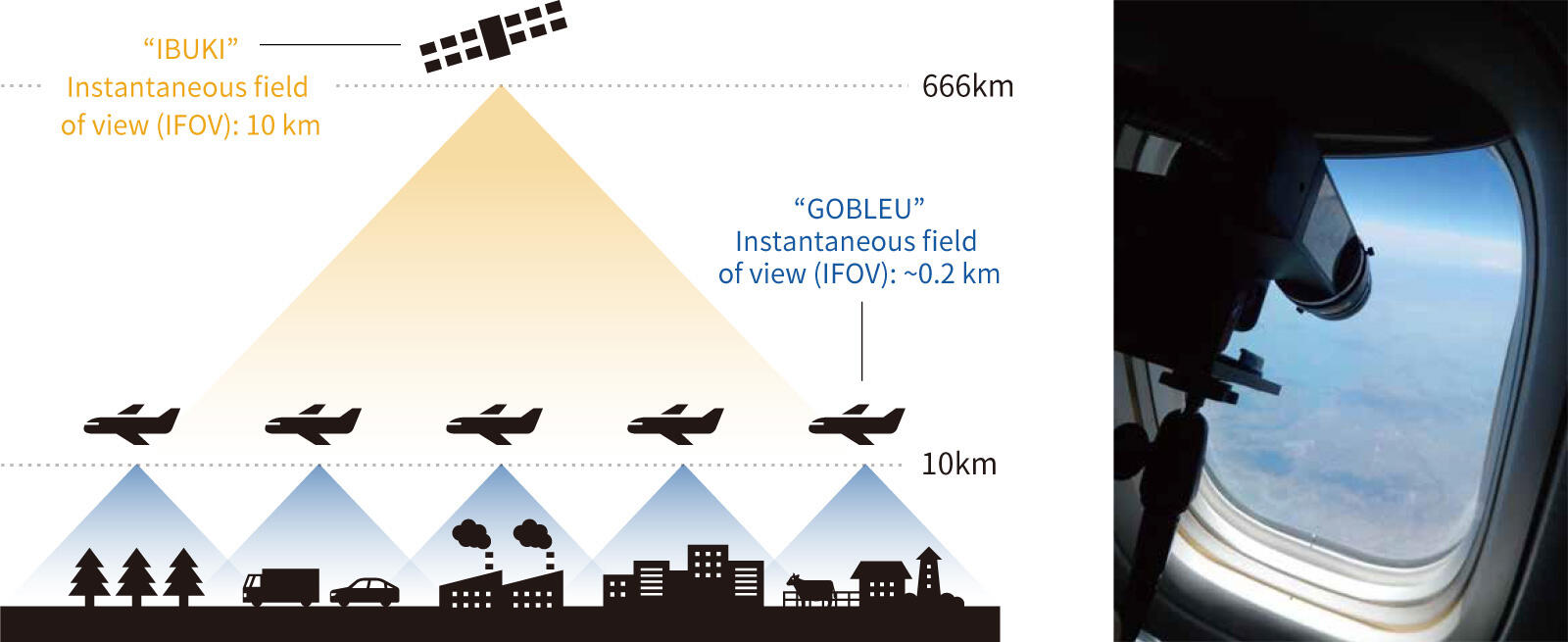 It was while on a business trip that Suto hit upon the concept. When he half-jokingly proposed the idea to his research group, things progressed at once. First of all they checked which wavelength transmits through a window of passenger airplanes. Once it was clear that observations could be satisfactorily made, JAXA's monitoring instruments were taken aboard a passenger airplane operated by ANA Holdings Inc., and observations started on a regular basis last October on ANA flights between Tokyo's Haneda Airport and Fukuoka Airport. In order to demonstrate the feasibility of making observations from passenger airplanes, the project is first of all concentrating on observations of the nitrogen dioxide (NO2) that is simultaneously emitted with carbon dioxide (CO2) in the combustion process.

Suto says: "The COVID-19 crisis restricted the number of observations we could make, but upon comparing the observational data from the passenger airplanes with the observational data from IBUKI we were able to clearly capture the spatial distribution of nitrogen dioxide beneath the flight path. This provides us with an indicator showing the emission and spatial distribution of greenhouse gases from urban areas.
The ultimate target of GOBLEU is to clarify greenhouse gas "emissions" and "absorption." According to Suto, because greenhouse gas concentrations change due to the impact of wind direction and wind speed, the project is currently at the stage of increasing the frequency of observations. "We first of all hope to increase the data, and thereby minimize the margin of error in order to estimate emissions. We also intend to expand observations by using the air route between Tokyo and Sapporo, and want to tie this in with ascertaining the volume of greenhouse gas absorbed by forested areas. We are pursuing more compact instruments with the hope of conducting observations like a video camera in the future."
Profile
SUTO Hiroshi

Associate Senior Chief Officer of Earth Observation Missions
Space Technology Directorate I
All the images are copyrighted ©JAXA unless otherwise noticed.