JAXA will implement an early selection process for technology-related positions only, in the next round of newly graduated personnel recruitment. SHIMIZU Kanae of our Human Resources Department explains the background.
"Last year, when we experimented with an early selection process for personnel in the field of electricity, we received more applications than in an average year, and were furthermore able to meet with students who we had not been able to encounter before. We heard opinions from students that they would like to see the early selection process opened to fields other than electricity, and this is why we have decided to include all technical areas in the process."
Technical positions include the development and operation of satellites and launch vehicles, space environment utilization, basic technical research, use of Earth observations data, the creation of new projects with private companies, and around 70% of JAXA employees work in technology-related positions. When people hear the words "technology related to aerospace," there is perhaps a tendency for them to preconceive a need to have specialist knowledge about aerospace from the entrance examination onwards, but according to SHIMIZU this is not actually the case.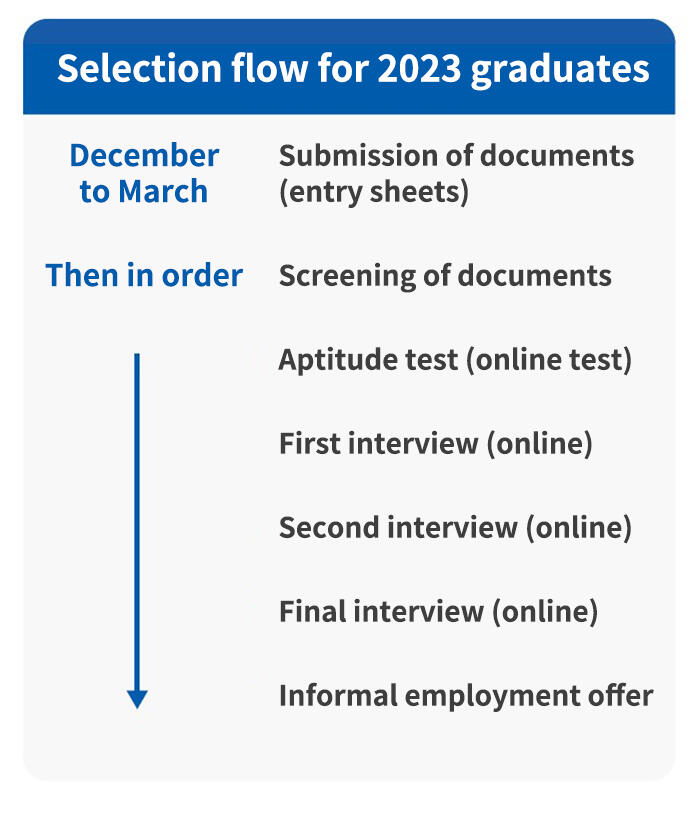 "The selection flow is quite normal and starts with an entry sheet, followed by the screening of documents, an online aptitude test and then a first, second and third interview. The details of the selection are no different from any other corporation."
Major qualifications and abilities JAXA looks for can be divided into three major points, continues SHIMIZU. "Specialist ability is what the greatest stress is placed on. It does not matter if that specialization is not in an aerospace field. The second point is the "ability to out forward ideas." Because JAXA is aiming to create new values through aerospace, the ability to put forward ideas is essential. The third and final point required is "initiative." In order to pioneer new fields and solve issues, we believe that it is important that our personnel have the ability to work autonomously."
SHIMIZU says that the most eagerly watched point at the recruitment stage is "Whether or not the candidate will be able to endow his or herself with specialist ability and improve that ability after joining JAXA. In order to verify whether candidates have that grounding, the interviews look closely at just how much effort students put into the study and research conducted during their student life."
Finally, with regard to the allure of JAXA, SHIMIZU says, "JAXA is an organization that collaborates with worldwide aerospace institutions, other countries, companies and universities, making it the hub that promotes Japan's aerospace research and development. I think it's a workplace in which you can expand your knowledge through such interaction. If you are even slightly intrigued, please take a look at our recently opened recruitment site for new graduates and watch the online explanatory meeting."