Space Exploration Innovation Hub Center
Industry-Academia-Government Joint Development Project
Palm-Sized Lunar Excursion Vehicle 2
(LEV-2)
JAXA has been developing Lunar Excursion Vehicle 2 (LEV-2) to be mounted on the Smart Lander for Investigating Moon (SLIM) jointly with TOMY COMPANY, LTD., Sony Group Corporation and Doshisha University. LEV-2, which is a ball-shaped vehicle with a diameter of approximately 8 cm and a mass of approximately 250 g, is equipped with two cameras and can change its shape to run on the lunar surface.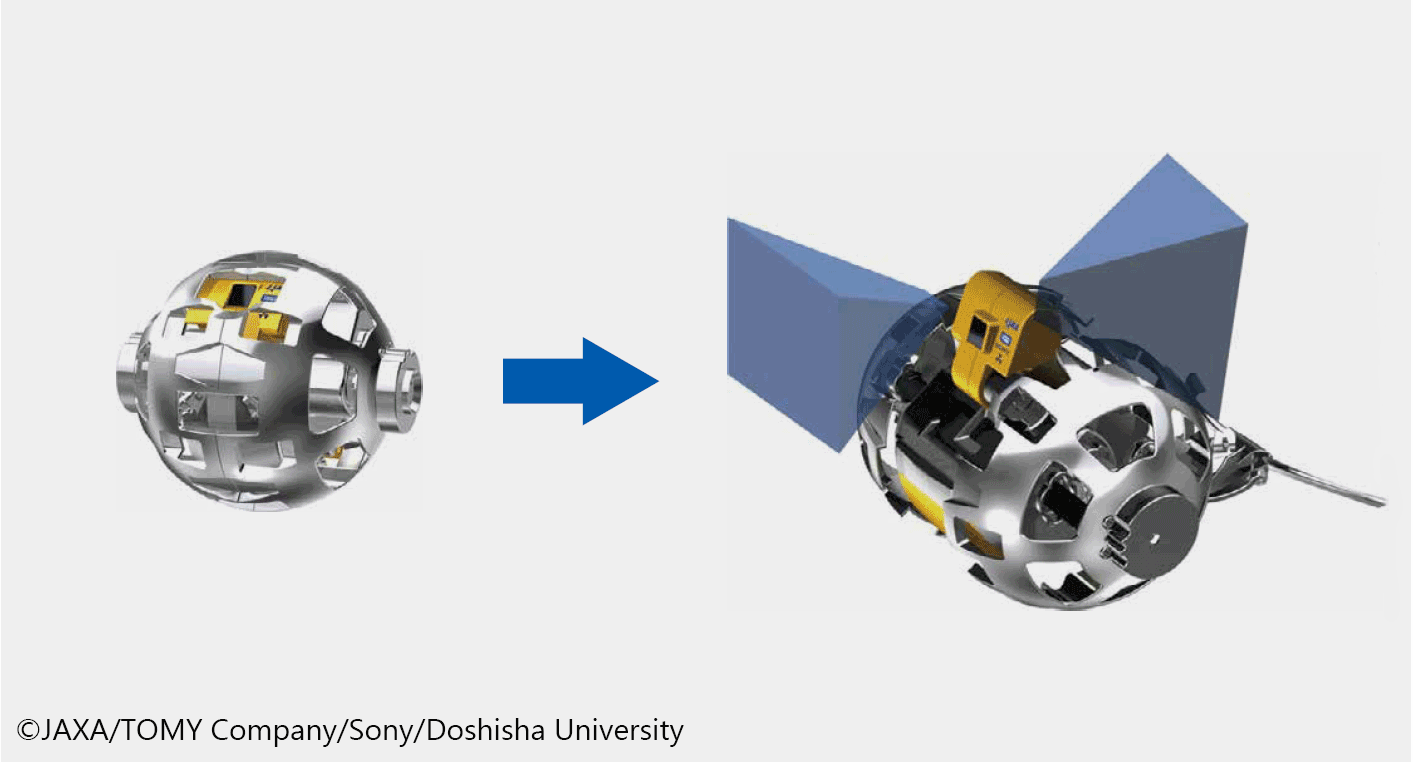 HIRANO Daichi engaged in the development of the vehicle at JAXA. He says, "To satisfy the limited size of the vehicle to be mound on SLIM, we had to downsize LEV-2. However, downsizing causes a decrease in running performance. In order to deal with this problem, we designed the vehicle to be a spherical object with expandable wheels and a stabilizer using the transforming technologies for toys. Moreover, we adopted the robust and safe design technology for children's toys, which reduced the number of components used in the vehicle as much as possible and increased its reliability." HIRANO continues, "This robot was developed successfully within the limited size and mass using the downsizing and weight reduction technologies and the shape changing mechanism developed for toys by TOMY and Doshisha University as well as the small and energy-efficient control board and camera developed by Sony Group." As implied by HIRANO's words, this joint development proved the value and possibility of industry-academia-government cooperation.
LEV-2 is now in the final process before the launch to the moon. It was designed by a toy manufacturer and thus gives dreams to children.
"I hope children will get interested in science generally, not limited to space science, by seeing the baseball-sized vehicle running while swinging left and right on the Moon."
Profile
HIRANO Daichi

Associate Senior Researcher
Space Exploration Innovation Hub Center
All the images are copyrighted ©JAXA unless otherwise noticed.