Hayabusa2
Moving to Cruising Phase while heading to Asteroid 1999 JU3
Japan Aerospace Exploration Agency (JAXA)
The Asteroid Explorer "Hayabusa2" completed its initial functional confirmation period on March 2, 2015, as all scheduled checkout and evaluation of acquired data were completed. The explorer has been under inspection for about three months after its launch on Dec. 3, 2014.
The Hayabusa2 is moving to the cruising phase while heading to the asteroid "1999 JU3" on March 3. It will be under preparatory operation for an Earth swing-by scheduled in Nov. or Dec., 2015.
We plan to increase the cruising speed of the explorer (60 m/sec.) by operating two ion engines twice (in total about 600 hours or 25 days) until the Earth swing-by. For the first operation, we will gradually increase the time duration of continuous ion-engine operation from March 3, and will operate the engines for about 400 hours within March. The second operation is scheduled in early June.
*Please refer to the attached mission schedule.

The Hayabusa2 is in good health.

We would like to express our profound appreciation to all pertinent parties who have supported and cooperated with our initial functional confirmation operation. Your further and continued support will be highly appreciated for this long-term space exploration mission of the Hayabusa2.
* For more information about the Hayabusa2, please refer to the following JAXA website "Hayabusa2 project page."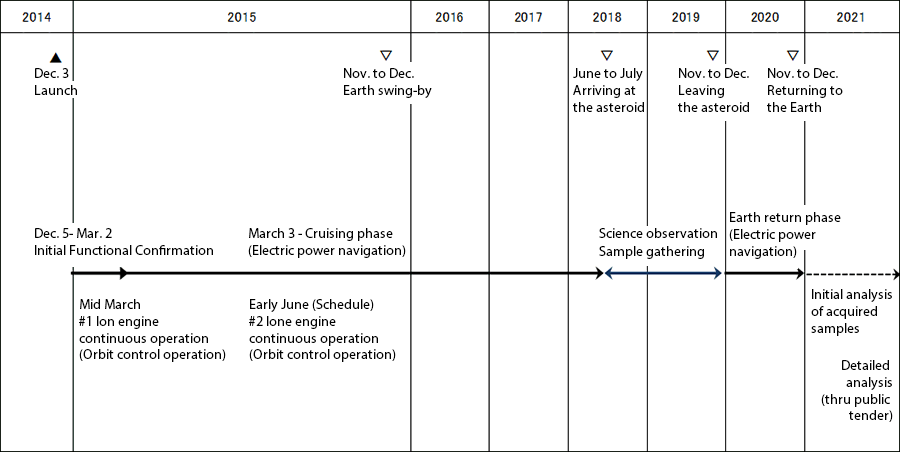 2. Checked Points by Initial Functional Confirmation
Date
Confirmed point list * Gray shaded items were already reported at an explanation session on Jan. 28, 2015.
2014
Dec. 7,8
X-band mid-gain antenna beam pattern measurement, Data acquisition at a radio station, X-band communication equipment function verification.
Dec. 9
Power system (batteries) functional confirmation
Dec. 10
Near Infrared Spectrometer (NIRS3) inspection
Dec. 11
Thermal Infrared imager (TIR) / Deployable Camera (DCAM3)/ Optical Navigation Camera(ONC) inspection
Dec. 12-15
Attitude and orbit control system (each unit) function confirmation
Dec. 16
Small rover (MINERVA-II) / Small lander (MASOT) inspection
Dec. 17
Re-entry capsule / Small Carry-on Impactor (SCI) inspection
Dec. 18
X-band high-gain antenna(XHGA) five-spot pointing test, Ion engine pre-operation arrangement
Dec. 19-22
Ion engine baking
Dec. 23-26
Ion engine test operation (ignition) *Unit by unit operation (Ion engine A on the 23rd, B on the 24th, C on the 25th, D on the 26th)
Dec. 27-Jan. 4
Precise orbit determination, DDOR(Delta Differential One-way Range)operation
2015
Jan. 5-7
Ka-band communication equipment; radio station communication data acquisition; antenna pattern measurement
Jan. 9-10
DOR by each Ka-band DSN statin, ranging test
Jan. 11
Ion engine pre-operation arrangement
Jan. 12-15
Two ion engines combination test <A+C on the 12th> <C+D on the 13th> <A+D on the 14th> <A+C on the 15th>
Jan. 16
Three ion engines combination test <A+C+D>
Jan. 19-20
Two ion engines combination test for 24-hour continuous autonomous operation <A+D>
Jan. 23
Laser Altimeter (LIDAR), Laser Finder (LRF), Flash Lamp(FLA)function inspection
Jan. 20- Mar.2
Functional confirmation to move to the cruising phase (regular operation) including combined operation of multiple instruments
Solar light pressure impact evaluation; solar tracking behavior data acquisition; combined operational function confirmation of solar light pressure, attitude and orbit control system (such as a reaction control wheel) and ion engines.
3. Hayabusa2 Cruising Phase Status
As of 2: 00 p.m. on March 3, 2015 (Japan Standard Time)
| | |
| --- | --- |
| Distance from Sun | 162,450,000 km |
| Distance from Earth | 35,900,000 km |
| Right ascension | 91.94 degrees |
| Declination | -8.57 degrees |
| Navigation speed | 27.36 km/s |
Hayabusa2 direction viewed from the Earth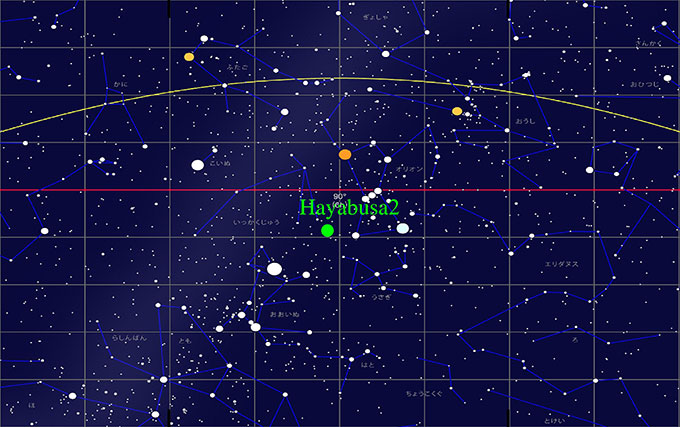 Relative locations of Hayabusa2, Earth, Sun and 1999 JU3 (Schematic drawing)