The Okinawa Tracking and Communications Station was established in February 1968 as the Okinawa Radiowave Tracking Base of the then Science and Technology Agency (STA) Space Development Headquarters, which was affiliated with the then National Space Development Agency (NASDA) as its facility when NASDA was established in October 1969.

The main role of the Station is to track and control satellites. It plays a role to maintain and control satellites by receiving radio waves from satellites in space to confirm their positions and attitudes and to learn if their onboard electronic devices are functioning properly. If necessary, command signals are also transmitted from the station to satellites.

At the station, we have two sets of tracking and control systems with parabolic antennas measuring 18 meters and 10 meters in diameter. In addition, there are the WINDS beacon station and a parabolic antenna with a diameter of 30 meters for visitors to look at. Two more tracking and control stations with a 7.6-meter parabolic antenna (covered by a raydome) were newly constructed.
1712, Kinrabaru, Afuso, Onna-son, Kunigami-gun, Okinawa 904-0402
Tracking and Control Center

Parabolic Antenna (total of five antennas)

Okinawa First Transportable Station
You can look around the Okinawa Tracking and Communications Station freely. The station is equipped with a parabolic antenna measuring 30 meters in diameter for visitors to look at, the first exhibit hall, which explains the roles of satellites, the third exhibit hall with an engineering model of a broadcasting satellite (BS), the Space Information Room, where you can learn about space related issues, a Video Room and Environment Corner.
Open

10:00 a.m. to 5:00 p.m.
Open everyday
(Please be aware that we may temporarily close the facility without prior notice.)
The free parking lot accommodates about 15 passenger cars and three mid-size buses (a bus for 35 passengers or so.)
* Due to parking space constraints, please do not come to the station in a large-size bus.

Baby strollers and wheel chairs can also enter the facility.

Two rental wheel chairs are available (free of charge.)

You can not bring your own lunch. (No eating is allowed in the facility.)

No pets are allowed to enter the facility except a seeing-eye dog or a service dog.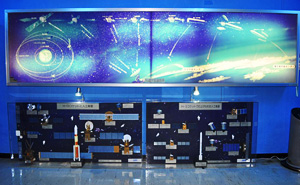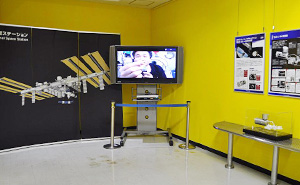 At the Exhibition Hall, you can enjoy some explanatory models on the types and roles of satellites and launch vehicles, and an actual test model made during the development of the broadcasting satellite (BS) "Yuri." which was manufactured during its development. In the Video Room, you can watch videos and anime of rocket launches and space development. We also have the "Space Information Room," where you can learn about space development in a fun manner by reading some space- and environment-related books and enjoying the Internet and a space-related quiz through personal computers.