Notice
In order to prevent the spread of the new coronavirus infection, the tour of the Tsukuba Space Center are canceled.
[Closed]
・Guided Tours
・Cafeteria
・Convenience store
・Library
We accept advanced bookings only. Visitors without bookings cannot enter the site*.
*The site includes the Space Dome, Planet Cube (the souvenir shop) and the Rocket Square.

Admission is free.

We will measure your temperature by a thermography camera and ask your physical condition before entry.
To prevent spread of the novel coronavirus infection, we kindly request that anyone experiencing cold symptoms (fever, coughing, or other relatively light cold symptoms, including loss of the senses of taste and smell), a person returning or arriving to Japan from overseas in the past two (2) weeks, or anyone had a close contact with a person who is infected or suspected of COVID-19 infection in the past two weeks to refrain from entering JAXA premises.
Thank you very much for your understanding and cooperation.
During the "Ibaraki Prefectural Spread Prevention Warning Period" (March 21st to April 10th, 3rd year of Reiwa) issued by Ibaraki Prefecture, visitors from the emergency declaration area and the priority measures area such as spread prevention are not allowed. Please refrain from doing so.
JAXA's Tsukuba Space Center (TKSC), located in Tsukuba Science City, opened its doors in 1972. The TKSC, which sits on a 530,000 square-meter site, with beautiful natural surroundings, is a consolidated operations facility with world-class equipment and testing facilities.

JAXA performs the following among our various activities to be promoted at the TKSC to fulfil its role as a core organization for Japan's space development.

Development and operation of satellites, which are eyes from space, and analysis of acquired observation data (images).

Space environment utilization using the Japanese Experiment Module "Kibo" of the International Space Station, providing astronaut training, and promoting manned space activities.

Development of launch vehicles and other space transportation systems and technological research promotion.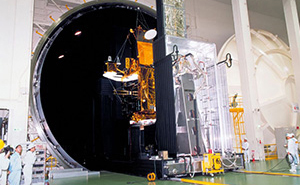 (Spacecraft Integration and Test Building)
Satellites and rockets are disassembled, and their parts and systems are tested to ensure their endurance in a vacuum and in the thermal environment of space.
Large Scale Vibration Test Facility (Spacecraft Integration and Test Building)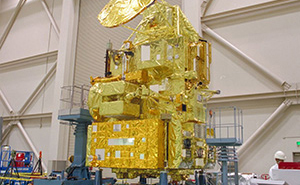 In this building, satellites or launch vehicles undergo vibration tests by separating them into each unit or system.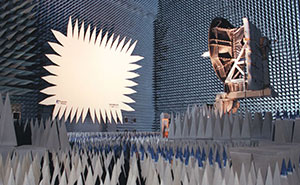 This facility is used to evaluate the conduct radiowave performance of spacecraft, properties tests of antennas and radiowave sensors, and measure their radiowave characteristics.
Aerospace Information Reference Center (Tsukuba Library)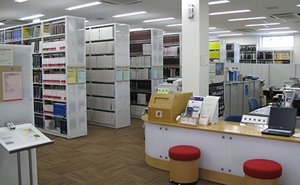 The library at the JAXA Tsukuba Space Center is a special library for the space field. Everyone is welcome there. Please contact us before you visit the library.
| | |
| --- | --- |
| Open | 9:30 - 17:45 |
| Closed | Saturday, Sunday, national holidays |