Remote-sensing technologies enable us to observe the conditions of the Earth's environment from satellites. In order to establish and develop these technologies, which play a significant role today, the Earth Observation Center (EOC) was founded in Hatoyama Town, Hiki County, Saitama Prefecture.
The EOC, located in an area richly endowed with nature, is equipped with two gigantic parabolic antennas to receive data from satellites. The data is treated through instruments to change it into a form that can be easily handled by computers, then stored and managed at the EOC.
The data is turned into simple images that can be "easily perceived by the general public" by a computer according to the request of research institutions, universities, and domestic and international users. The images are then provided to them to be utilized for a broad range of fields including elucidation of environmental issues, monitoring disasters, and surveys of natural resources.
1401 Numanoue, Ohashi, Hatoyama-machi, Hiki-gun, Saitama 350-0393
In the exhibition hall, models of terrestrial observation satellites and images sent from these satellites are on display. This exhibit emphasizes the significance of global environmental issues and the importance of terrestrial observation. Visitors can learn about the technology that makes the study of earth and space possible, about processed-image data, and about the future of terrestrial observation. Groups are welcome. Please contact us for more detailed information.
| | |
| --- | --- |
| Open | 10:00 a.m. to 4:00 p.m. |
| Closed | Saturdays, Sundays, holidays, End-of-year holidays & maintenance days (irregular). |
Free parking lot for about 30 cars

Wheel chairs and baby strollers can enter the exhibition hall.

You can bring your own lunch to eat it outside of the building or in a lounge. (No eating is allowed in other areas.)

Pets are allowed ONLY outside of the buildings.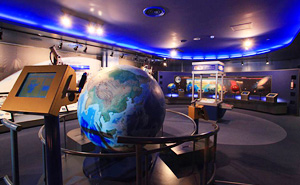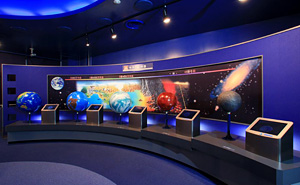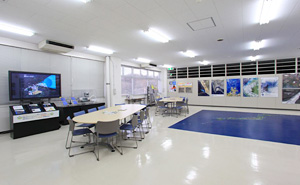 In the EOC exhibition hall, models of Earth observation satellites and earth images sent from the satellites are on display. You can also enjoy quizzes through the Internet.
In the lounge area, you can see the latest images taken by satellite from space, and the overall surrounding of the exhibition hall is designed to be comfortable to visitors.
Between 10:00 a.m. and 4:00 p.m. on weekdays
Visit the work sites. Advanced bookings are required for group tours.
For more details, please contact Earth Observation Center